To commemorate Nurses Week, we will be highlighting a couple nurses who have shaped modern nursing. Read about Colonel Ruby Bradley, a WWII and Korean War nurse who served in the Army.
In 1934, Ruby Bradley entered the United States Army Nurse Corps as a Second Lieutenant. She served as a surgical nurse at Camp John Hay in the Philippines and was captured there three weeks after the attack on Pearl Harbor.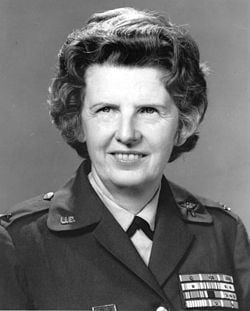 While in the Santo Tomas Internment Camp, she continued to serve, administering medical assistance whenever she could. Additionally, she would routinely sneak food to hungry children, often forgoing her own meals to ensure that the children were fed. The lack of food lead to a dramatic weight loss and she used this extra space in her clothing to smuggle surgical equipment into the prisoner camp.
A little over three years after she was captured, the camp was liberated by United States troops. She weighed only 86 pounds.
After her return to California, she earned a Bachelor of Science degree from the University of California. Bradley continued her military service throughout the Korean War. She was the Chief Nurse for the 171st Evacuation Hospital. During a counter-offensive attack by the Chinese Army, a plane was surrounded by more than 100,000 Chinese soldiers. Bradley refused to leave until all the sick and wounded had been loaded into a plane. Seconds after she jumped aboard, her ambulance exploded.
In 1951, she was named Chief Nurse of the Eighth Army and she oversaw more than 500 Army nurses throughout Korea. Bradley earned the rank of Colonel in 1958 and retired from the Army in 1963. She passed away in 2002.