Looking for a nursing specialty that's sure to stay in demand throughout your career? Look no further than a job as a telemetry RN. Telemetry nurses live a fast-paced life—at least while on the clock (we don't judge if your off-work time includes hours of Netflix binges at home). But what is telemetry nursing?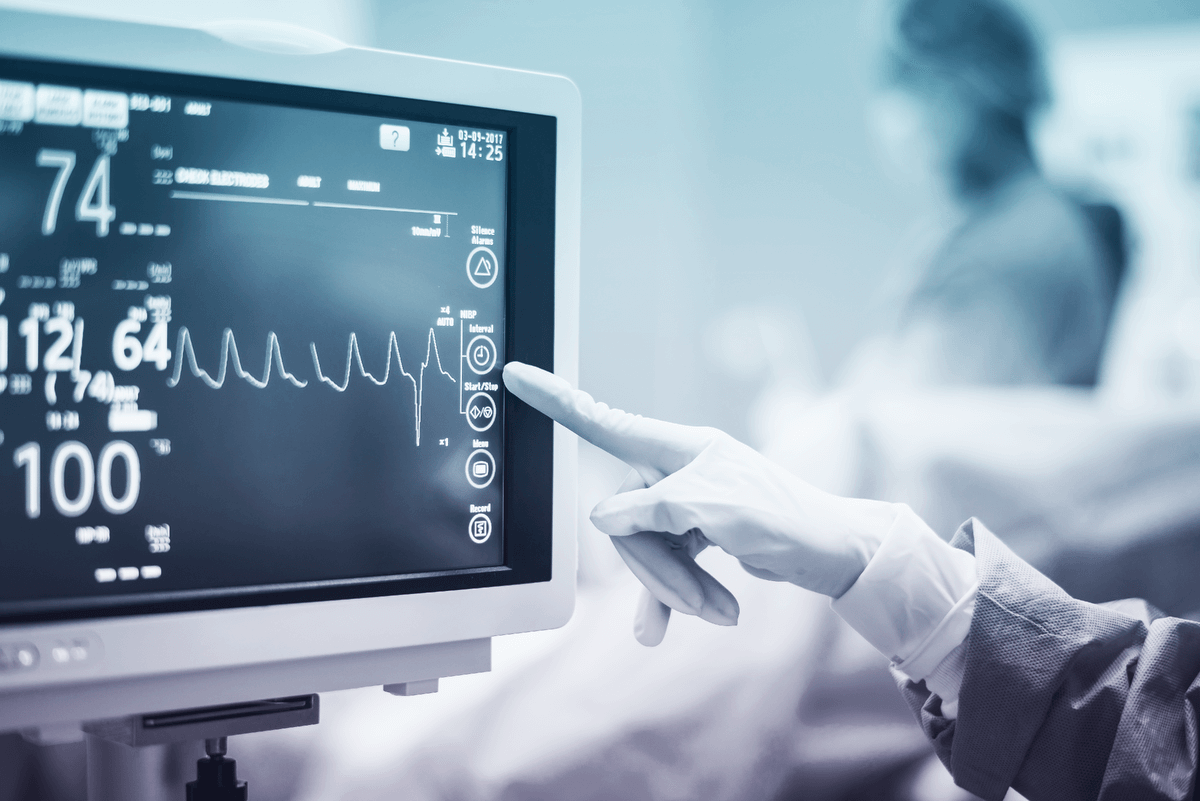 If you're a newer nurse, experience in this specialty can boost your career by honing your vital signs skills and allowing you to work with new equipment such as EKG or ECG machines. If you're an experienced nurse specializing in another unit and asking yourself what is a telemetry unit in the hospital, know that telemetry can provide a different experience and offer a new outlook on your profession. Whether you're new to nursing or an experienced nurse who's interested in learning more about what is telemetry nursing, here's how to venture into the telemetry unit and reap the professional benefits.
What is a Telemetry Nurse?
Everyone knows what a NICU or ER nurse is, but if you ask friends who aren't in the medical field, few would know what a cardiac telemetry nurse does—that is, until they've had a loved one in the hospital. But, just because these nurses work in a more behind-the-scenes position, it doesn't mean they're any less important.
Quite simply, the telemetry definition in medical terminology means monitoring vital signs remotely. Patients who are cared for on the telemetry unit have their vital signs constantly watched. These patients are often recovering from medical events like a heart attack or stroke and any sudden changes in a patient's status can mean immediate trouble. Telemetry patients don't have the same life-threatening illness or injuries that an ICU stay requires, but they aren't well enough to be moved to a regular hospital floor or be discharged. That's where telemetry nursing comes in play.
Wondering what does a telemetry nurse do in order to be successful? First and foremost, telemetry nurses need to be well-organized and up-to-date on all the technology needed to monitor patients. Some of a telemetry nurse job duties include:
Diagnostic tests

Dispensing medications

Monitoring patients, including blood pressure, oxygen and breathing

Educating patients and family members about cardiac concerns

Managing telemetry devices, including the ability to pair and unpair the equipment
Telemetry nurses can have anywhere from 3-5 patients at one time, though ratios can vary by state and facilities. Typically, patients in the telemetry unit don't stay long since they're just getting some extra, constant monitoring while they recover from a stroke, heart attack or other cardiac event. Because these patients require constant, around the clock monitoring, a telemetry nurse can work both day and night shifts. Additionally, tele nurses will need to understand how to work and interpret results from machines like EKG, ECG, EMG, blood pressure monitor, SpO2, dialysis machines and a respiratory rate monitor. That's a lot of responsibility, but in our experience, tele nurses are up for the task.
What is the Telemetry Unit in a Hospital and What Do Those Nurses Do?
Most commonly, patients in the telemetry unit are recovering from conditions related to heart disease, such as chronic obstructive pulmonary disease, cardiovascular abnormalities, recovering from heart surgery, high blood pressure or renal failure. Patients can also have secondary concerns, like respiratory issues or cancer. Because of this, it's important that tele nurses are well-rounded and familiar with a variety of concerns.
There are different levels of telemetry care, ranging from 1-3 and tele nurses handle them all. Level 1 patients are normally people who have symptoms of heart disease, heart attack survivors and people who have recently received CPR. Level 2 patients can include people who have a pacemaker, those with acute myocardial infarction, arrhythmia and chest pain. Level 3 patients are usually people who recently had cardiac surgery but have a lower risk of arrhythmia.
Since these patients are ill enough require constant monitoring, it also makes sense that tele nurses need to be on their toes and ready to act because they need to respond quickly to any changes in their patients' status. Even on a slow day, telemetry nurses are on the move. When providing individualized care for several patients at a time—while checking in new patients and discharging others—there's not much downtime. Telemetry RNs will experience the occasional heart-skipping incident (pun intended) where they'll need to think quickly and remain calm. It's no wonder that a nurse who spends time in a telemetry unit often moves on to other high-pressure departments like the ICU or ER after spending time in the unit.
What Can Telemetry Nursing Offer You?
If you're looking for a career that provides you with the ability to practice compassionate nursing, while still staying up to date with a number of advanced monitoring platforms, telemetry nursing is for you. Telemetry nurses do work in a challenging environment, but travel nurses, and particularly Triage travel nurses, aren't afraid of a little challenge. Telemetry is an opportunity that offers huge rewards in terms of patient care and impact with patients and their families.
Whether you decide that working in a telemetry unit is how you want to spend your career or you're using it as a stepping stone to move into other departments like an ER or ICU, you'll gain a number of valuable experiences. Major skills you'll hone in this unit are time management, the ability to multi-task and prioritize, as well as thoroughness, attention to details and organization. No matter where you end up in your career, these are all skills that will take you far.
A good telemetry unit also gives nurses the ability to work as a team, alongside a support staff such as rehabilitation nurses and CNAs. We know, "teamwork makes the dream work." While working with this team, you'll also be able to build upon your communication skills. Can't beat that.
Lastly, a job as a telemetry nurse can pay well and the demand for these professionals remains high. The need for registered nurses is expected to grow 9 percent from 2020 to 2030, and telemetry is no exception. The median salary for a telemetry nurse is just over $58,000, yet travel telemetry nurses can definitely expect to make more. Depending on the location and unit requirements, a nurse who specializes in telemetry can expect to make more than $100,000 a year once stipends and allowances are factored in, if they work the full year.
Where Can You Find a Telemetry Unit
Telemetry units can always be found in a hospital, but that's not the only place you can find telemetry jobs. It's also possible to find them in home healthcare and nursing home settings, as well as outpatient surgery centers and long-term care facilities. This variety means that telemetry nurses can choose the type of facility that works best for them.
How to Become a Travel Telemetry Nurse
If all this sounds right up your alley, getting started is easy. Obviously, you'll need to be an RN and first pass the NCLEX exam. Tele nurses usually also need to have completed both Monitoring (Basic) and Monitoring – Advanced ECG nursing competencies, but it's possible that a facility may have additional requirements.
After you've passed your NCLEX and completed both competencies, it's possible to become a telemetry nurse as a new grad. In order to travel with Triage though, you'll need at least two years of recent experience as a telemetry nurse. This is because like with all travel nursing, you'll be required to dive right into your new unit without a lot of training on equipment, charting systems or on telemetry unit procedures. While there may be small differences between facilities, telemetry units expect that their travel nurses are able to dive right in and take over patients right away. Sounds daunting if you're in your first travel assignment, but you've got this!
Telemetry is one of those in-demand specialties, offering plenty of location, shift and pay packages to choose from. If you're looking for a travel telemetry RN job, visit our telemetry job board, or talk to your Triage recruiter about your options. With such an in-demand specialty for travel assignments, we have hundreds of jobs available in facilities all over the country. So be sure you know what you want out of your travel assignment to narrow down your choices and then start the conversation with your recruiter so he or she can help you find exactly what you're looking for.