We know that pay is important. That's why we offer actual rates on the majority of our jobs on our Triage job board. We think if you're looking for allied or travel nurse jobs (including traveling therapy jobs), you should have as much information as possible. It's part of our commitment to be Real with you so you can be Ready for whatever your assignment throws at you. So, if you're looking to find out how much does a traveling PT make, check out our job board for a rough idea of what you can expect. Then, use these steps and get started on a career as a traveling physical therapist.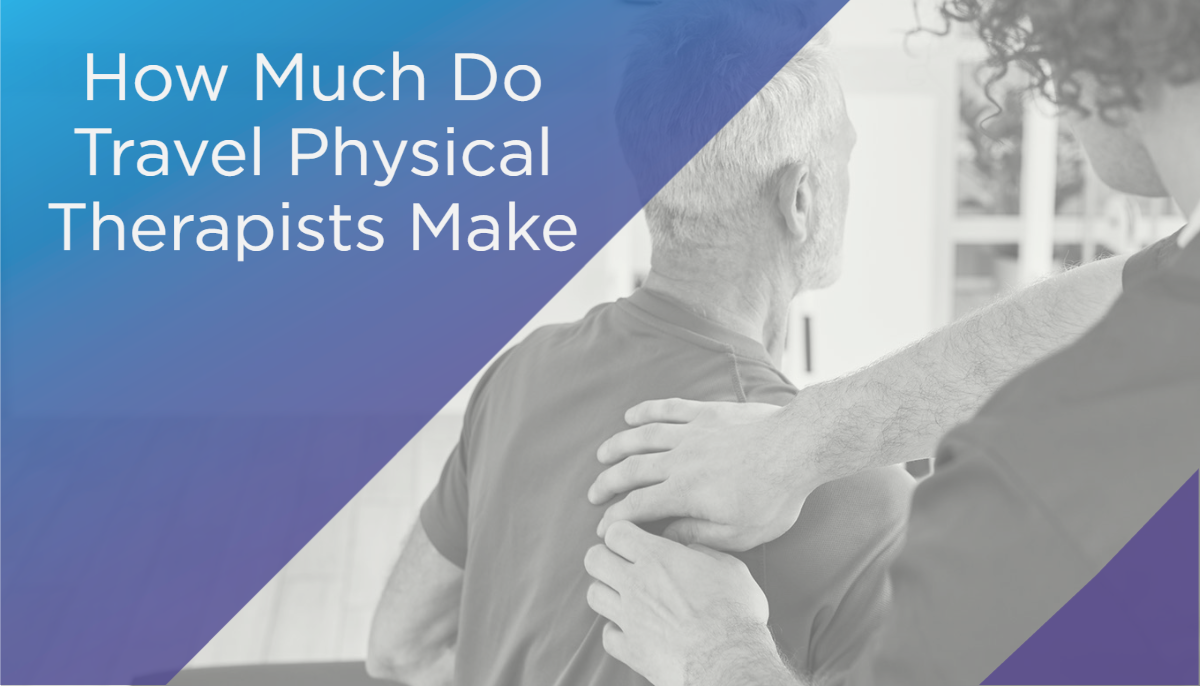 How to Become a Traveling PT: Step One, School
Like most jobs, the first step in becoming a traveling PT is school. Becoming a PT can take as long as seven or eight years so it's not a decision that's taken lightly. It starts with an undergraduate degree in a field related to health science, exercise or sports. You may be required to take classes in anatomy, physiology, biology, physics, chemistry and kinesiology. Before you finish your undergraduate degree, make sure that you research potential PT schools and programs to ensure that you're not missing out on any prerequisite classes.  
During your senior year of college, it's time to start applying for PT school. Programs usually last about three years and you may be required to take the GRE to supplement your application, depending on the school you're applying to.. Some even require some observation hours, where you observe or work under a licensed therapist. But wait, there's more (there's always more, right?). Many schools also require an interview before you'll be accepted into their program. Treat this like a job interview and you'll nail it. If you happen to know anyone at the school or who have graduated, chat them up for advice. Research and practice answering questions and ask your friends or family to do a mock interview or two. With a little preparation, you'll be able to pass with flying colors.  
You're in. Now what? PT school is typically three years. The first part is usually classroom instruction, while the second part is lab study and clinical education.  
If you're going into college knowing that you want to become a PT, look for a program that combines your undergraduate degree with your PT degree. These programs typically take six years total, knocking an entire year off your degree program.  
Finding a Travel Physical Therapy Job: Step Two, Licensing
You're done with your degree. You probably think the hard work is over. Well, mostly, but not quite. You still have a couple steps to go. First is taking the National Physical Therapy Examination. This test will measure basic competence on skills that you should have learned in the classroom and while doing your lab and clinical work before graduation. The test takes place a couple times a year and most May graduates take the test in either July or October.  
Then, each state has its own licensing process. This varies by state and typically you're required to apply for a license in your home state. So how does traveling as a PT work? Like nursing, there are PT compact states—these are states that have agreed to automatically accept a license from another state. Currently, many US states participate in the PT compact. Eight states have enacted legislation and are waiting to issue compact licenses, three have introduced legislation and fourteen currently have no plans to participate.  
If you're not in a PT compact state and plan on working in another state, you'll need to contact that state's licensing board and apply for a license.  
Becoming a Traveling PT: Step Three, Finding an Agency
One unique thing about physical therapists is that they can start to travel immediately after they're licensed, while most other healthcare travelers, such as travel nurses, require a few years of experience in a hospital or facility.  
When finding the right agency, make sure you're asking the right questions about a travel PT salary and traveling in general. Begin your search by looking for an agency that has a therapy division. Some travel nurse agencies say they have therapy divisions, but when you actually look for jobs, they only have a couple to choose from. Finding out how much do traveling PTs make can be difficult if you're only looking at data from a handful of jobs.  
If you start off by asking your recruiter how much do travel physical therapists make, they're probably going to ask you how much you want to earn as a traveling PT salary. This isn't because of any shadiness by your recruiter (though definitely do your research when looking for a physical therapist traveling recruiter). Instead, they're asking you what you want to earn for a traveling physical therapist salary because this can vary greatly by area of the country, the facility, the time of year and more. If you have a rate you absolutely don't want to go under, check that your agency can meet this before you spend a lot of time on a profile.  
Searching for Traveling PT Jobs: Step Four, Finding Jobs With the Right Travel Physical Therapist Salary
Once you have a recruiter and an agency, the next step is to create your profile. Your profile is a lot like your resume so take the time to do it right. Triage uses a platform called Kamana to create your profile. After all your certifications, degrees and everything else is uploaded into Kamana, you can then share it with your Triage recruiter (and even recruiters from other agencies). We call it our profile-back guarantee.  
After your profile is done, talk to your recruiter about what you want out of an assignment. Do you want to go to a specific location? Or do you want to work in a specific kind of facility? This all helps shape your travel PT salary so knowing what you want is the first step. Also, are you particular? Are your requests must haves or nice to haves? Like any other decision, knowing what you'll be strict on and what you're flexible on can help your recruiter find you jobs that work for you. 
For instance, let's say you want to go to Seattle. Are you stuck on Seattle or are you flexible within the Pacific Northwest? Either is fine—it's your PT career! You may earn more in Seattle, than in other areas of the Pacific Northwest, but the cost of living may also be higher, making your actual take home pay less after you consider your expenses. A good recruiter will go over all these aspects of your travel physical therapy pay so you know exactly what you're getting.  
Looking for a travel physical therapy job? Let Triage's group of dedicated therapy recruiters help you find the position that best fits your needs.