At Triage, we're lucky enough to have some incredible travelers as a part of #TeamTriage. But this PT Month, we want to spotlight Kari and Tyler, a pair of traveling PTs.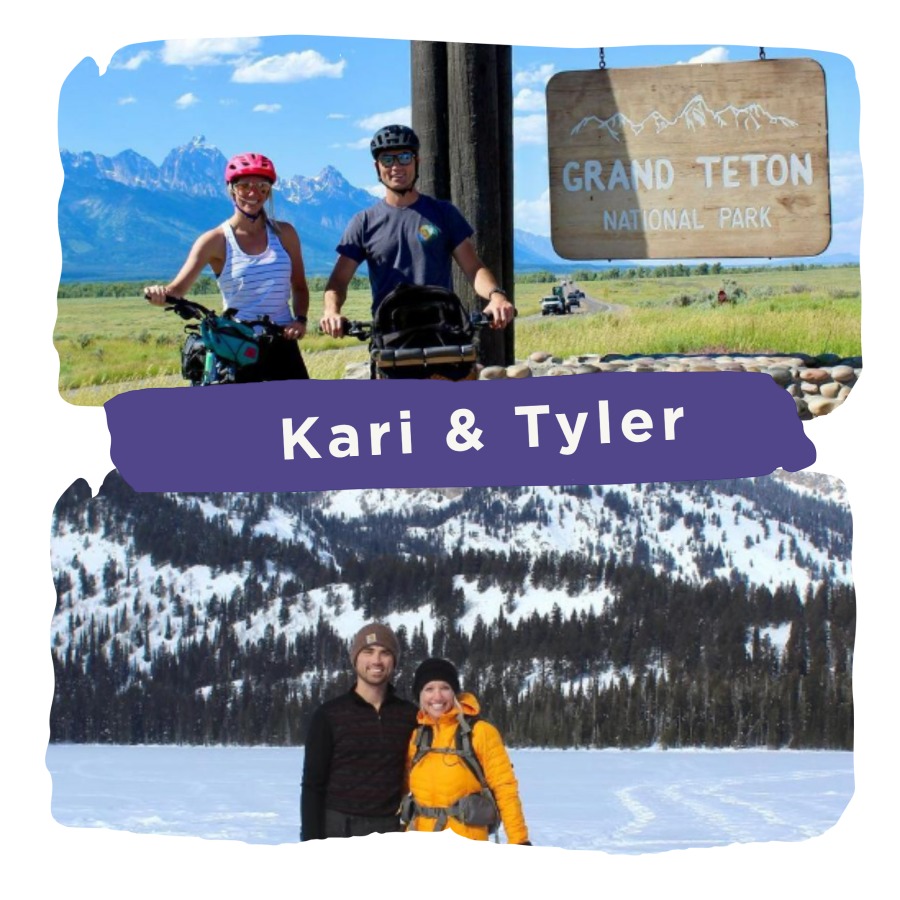 Kari and Tyler explore the country, one assignment, state and national park at a time. Over the last few years, they've documented their adventures on their social media channels with some incredible photos and videos—we love seeing their pics come across our feed—and they're always willing to share advice and their experiences with others who are thinking of traveling.
You can follow along with Kari and Tyler's adventures, including the 52 Hike Challenge and RAGBRAI, via roadtrippinpt on Instagram, Facebook and YouTube.
Thanks to Kari and Tyler for taking time out of their busy schedules to answer questions about their favorite (and least favorite) locations, the rewards and challenges of traveling as a pair and with a pet, and the advice they have for those just starting out in the PT field and considering traveling.
Did you always know you wanted to travel as part of your job or what made you decide to try it and how did you get started?
As DPT students, travel was never the plan. In fact, we had recruiters reaching out to us prior to graduation, trying to get us to take jobs, we turned them all down. About a year into working permanent jobs, we realized the location we were at was not for us and we felt like we were going to be in debt forever. Kari worked with a travel PTA who was the main reason we started to seriously consider travel. After much discussion with her coworker we started reaching out to recruiters and six months later we were working our first travel contract in Alaska!
What is your favorite part about traveling as a pair? Is it ever difficult to find two assignments at the same time and how has your recruiter been able to help with that?
Our favorite part about traveling as a pair is getting to explore a new place together and always having an adventure buddy! Having each other never makes you feel too far from home because you always have your person "home" with you!
However, it can be difficult to find two assignments at the same time. What makes it more difficult for us is we are a little pickier about setting and location. We see pair jobs pop up often but not always in settings we are willing to work. Having a recruiter who knows your interests and has your best interests in mind is key to being successful as a travel duo.
You are both very outdoorsy and active, what is your favorite activity to do on assignment? Does it change based on season?
We love anything outdoors! These do change based on season but we find a way to get outdoors no matter the weather. We enjoy hiking in the warmer months and snowshoeing in the winter. We've also been known to throw on some crampons and hike some icy trails. Paddle boarding is also a favorite of ours and recently we started biking. In fact, we just completed a 7 day organized bike ride across the state of Iowa. We also enjoy working out. We travel with our own gym equipment, to save on costs of a membership, and this is usually set up outdoors so we get to enjoy this in the evenings after work.
You have visited a ton of National Parks, which one has been your favorite and which one is next on your list? Have you had any crazy wildlife encounters?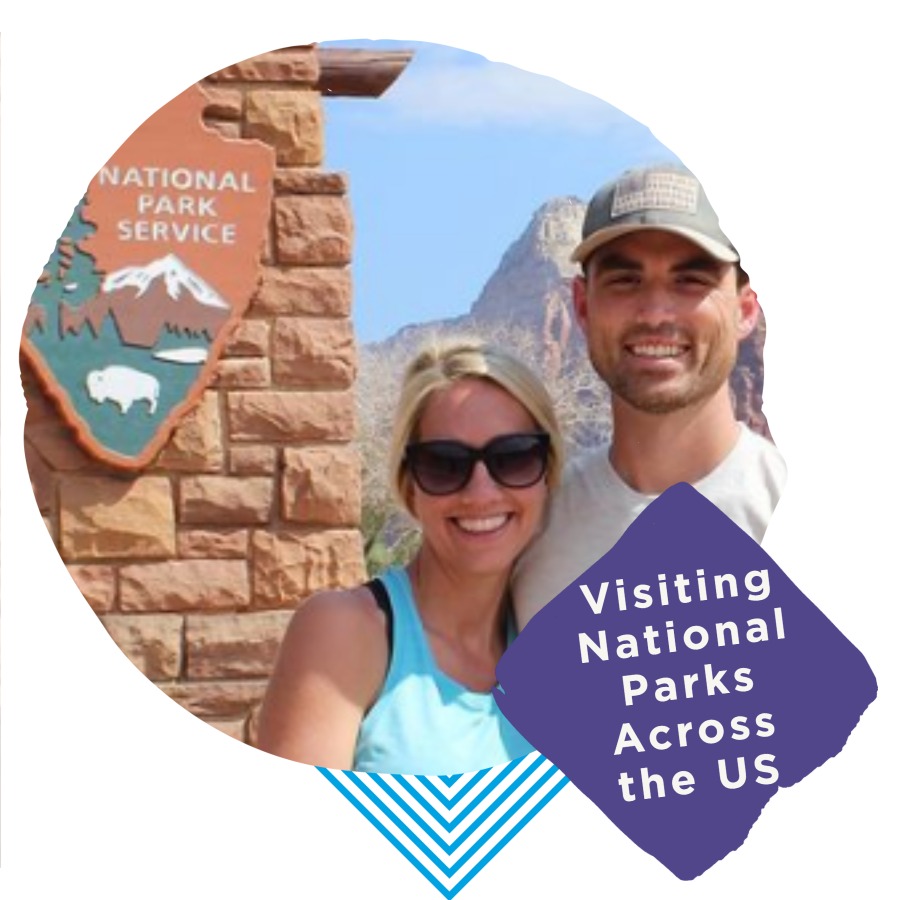 We love National Parks! We love spending as much time at them as we can to allow us to really explore the place. We have a few favorites. Glacier is newly at the top of our list and if you haven't had the chance to bike Going to the Sun road, DO IT!! We also love Yosemite; it is close to home, where we had one of our first dates AND took our engagement photos. Zion and Bryce Canyon are also at the top of our list simply for their uniqueness! I think it is safe to say, you can't go wrong at a national park. Fortunately, no crazy wildlife encounters at National Parks but we have had to hide from a moose or two while walking our dog in Alaska. Next on our list is visiting the National Parks in Washington. And, although we are both from the neighboring state of California we have NEVER been to Crater Lake; this has been on Tyler's "to do" list for years and we are working hard to make this happen!
Is there a location you can't wait to go back to? Or a location where you just couldn't explore as much as you wanted to?
We would love to go back to Alaska and Maine; the only reason we haven't is because there is still so much of the country we want to see. On almost every assignment, we've felt we've had to leave earlier then we would have liked. Our "to do" list grows with every job and we always leave a place feeling like there was so much more we wanted to see. And to keep things real, is there a location you wouldn't want to go back to? As far as locations we would not want to go back to, Louisiana in the summer and Houston. We loved the jobs at these locations, but the humidity of a Shreveport summer was not our favorite. As far as Houston, the city is just WAY too big for us!
You also travel with your dog Spencer, what do you think are the best and also most challenging parts of traveling with a pet? Does it ever make finding housing more difficult? Do you have a go-to starting point when looking for housing?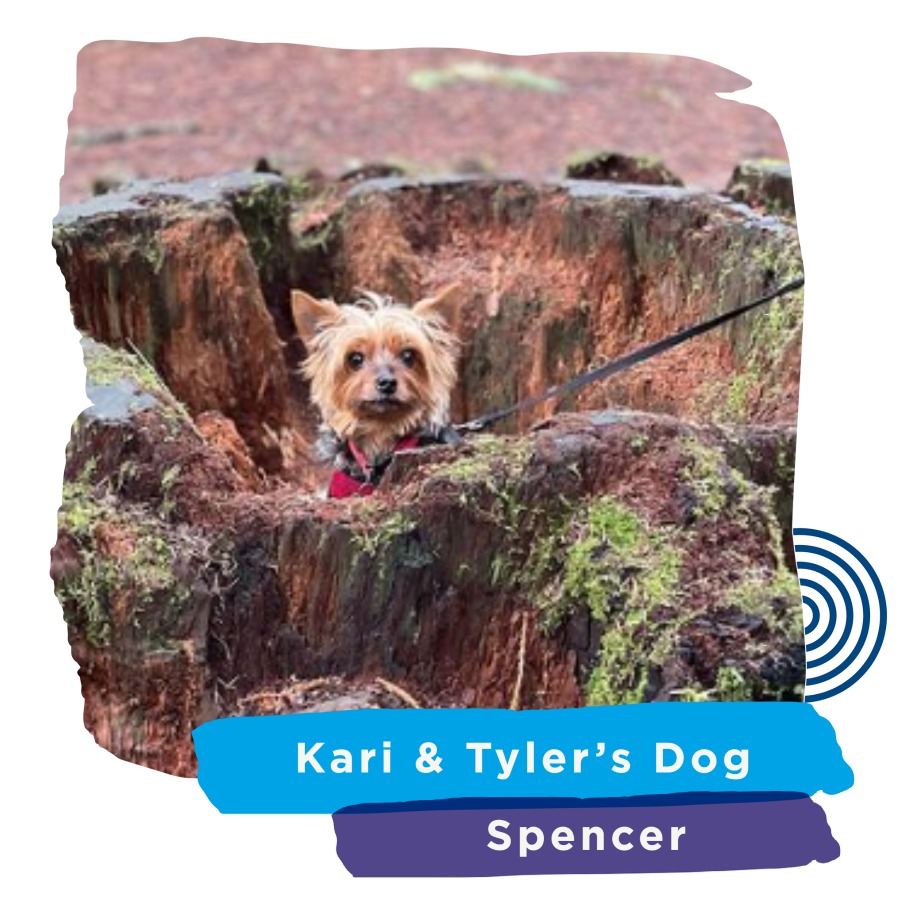 Our dog Spencer has traveled to every assignment with us, including Hawaii. He is a part of our family and we'd be lost without him. The best part about traveling with a pet is having someone who is always SO happy to see you! It is also great seeing how much he loves to explore new places; he loves to adventure as much as we do. He is our piece of home that is always with us. His size also makes him the easiest travel companion.
As far as challenges traveling with a pet, we've had our fair share. Spencer has a vet in almost every state. As we mentioned, he is an adventurous yorkie who loves to hunt and explore and we have the vet bills to prove it! He has been rushed to the emergency vet following a snake attack in Louisiana, been sprayed by a skunk he thought he could tackle and been allowed to accompany Tyler at work following a surgery.
Traveling with a pet can make finding housing a challenge. There are not as many pet friendly options as you'd think. Fortunately, with his size and breed (hypoallergenic) we've had landlords make exceptions. WE ALWAYS ASK if they would be willing to accept a pet. The other downside is you will likely be paying a higher deposit and likely an overall higher monthly rent for a pet friendly place. Not to mention pet fees at your overnight stays on road trips from one assignment to the other.
You document your travels on social media which can be a community in itself, what has been your favorite part of doing so?
Our favorite part of documenting our travels on social media is being able to connect with other travelers. We've met some great friends and learned of great places thanks to social media. Having a wide social circle of travelers has allowed us to ask others about adventures we should pursue while on assignment and share ones we have done. It really is a small community; someone usually has been or is going to a location that we can connect with. We have also had the opportunity to meet social medial friends in person, offering a free night during a pass-through town and share travel stories. It even helps with jobs, as it was an OT friend who reached out to us about our current Hawaii contract and let us know they might be having two openings. And as always, social media is a great place for us to go back and look at all the amazing places we've been and adventures we've embarked on.
What advice would you give someone that is just starting out in your field and considering traveling?
Tyler: Talk to a travel tax professional, make sure you have your taxes in order.
Kari: Do not stress over the small things, it's a constant learning journey and you will not have it all figured out on your first assignment.
We are 11 assignments in and still learning. Needless to say, we both agree it is a little scary starting out. There is a lot of uncertainty with this type of career, especially early on. But what we have learned is that there is a pretty consistent flow of jobs, it is a lot more stable than it may initially appear. We have been doing this for 5 years now and had consistent work throughout. The travel community is a great resource to get questions answered and we're always available to answer any questions.
Anything else you would like to tell us? (This can be about your career, Triage, your recruiter, traveling, etc.)
If you're considering travel therapy, take the leap!! We are so happy we did and now we cannot see ourselves stopping. Tom Juberian has been great to work with and we appreciate how helpful and accommodating Triage has been throughout our travel careers!
Follow Kari and Tyler on Instagram, Facebook and YouTube to see where their adventures take them next!