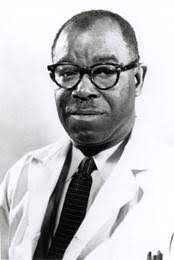 Born in 1903, William Edward Allen, Jr is credited as the first Black certified X-Ray technician. He's been credited with considerable contributions to medicine, particularly in nuclear medicine and radiation therapy for cancer patients.
Allen enrolled Howard University in 1923 and was commissioned as a second lieutenant in the ROTC. Shortly after that, he joined the University Symphony Orchestra, playing the violin at Calvin Coolidge's inauguration. Four years later, he earned his B.S. in chemistry from Howard and then graduated with his medical degree in 1930.
He interned at St. Louis City Hospital #2 and spent his residency in radiology. In the middle of his residency, St. Mary's Infirmary of St. Louis began accepting Black patients and Allen was named radiologist in chief and founded a school for x-ray technicians.
In 1934, Allen submitted a membership into the Radiological Society of North America, but his application was rejected. In 1935, he was named as an approved specialist in Radiology, and was just the fifth Black American given this honor. Four years later, while sitting for his board exams, he wasn't even allowed to ride the hotel's main elevator, instead required to take the freight elevator, even though he was a member of the American College of Radiology.
Some of Allen's other noted accomplishments include:
First Black American to receive fellowship in the American College of Radiology
Editorial Board of the JNMA
First violin and clarinet in the St. Louis Little Symphony Orchestra
Battalion surgeon for the 366th infantry in the Army Reserve
Radiologist in chief at Fort Huachuca Station Hospital
Began AFS-WAC school for X-ray techs for Black women serving in WWII
Radiologist consultant to the War Department
Founded the School of Technology at Homer G. Phillips Hospital
Elected first chairman of the Section of Radiology of the National Medical Association
Fellow of Inter-American College of Radiology and American Medical Association
Homer G. Phillips Award
Special Citation and Special Silver Plaque from the St. Louis branch of the NAACP
Distinguished Public Service Award of the St. Louis Argus
Outstanding Service Award of the Homer G. Phillips Hospital Interns Alumni Association
American Cancer Society Award
Distinguished Service Award from National Medical Association
Gold Medal from the American College of Radiology
The William E. Allen Jr, MD Annual Lecture of the Section on Radiology is named after him and still occurs yearly
The library of the Howard University radiology department is named after him, as well as the radiotherapy suite of Homer G. Phillips hospital
Outstanding Service Award from the Howard University College of Medicine
Allen passed away in 1981 from stomach cancer, one of the diseases he treated throughout his career. We're honored to celebrate his trailblazing career and advancements in radiology.
Come back next week as we highlight other prominent Black contributions to medicine.