So you wanna be a healthcare traveler. Great! Our allied and travel nurse agency recruiters are here to help throughout every step of the way as soon as you're ready to dive right in. But, if you're not quite there yet and are only gathering information for a future assignment, here's what you can expect when you do start the process of becoming a healthcare traveler.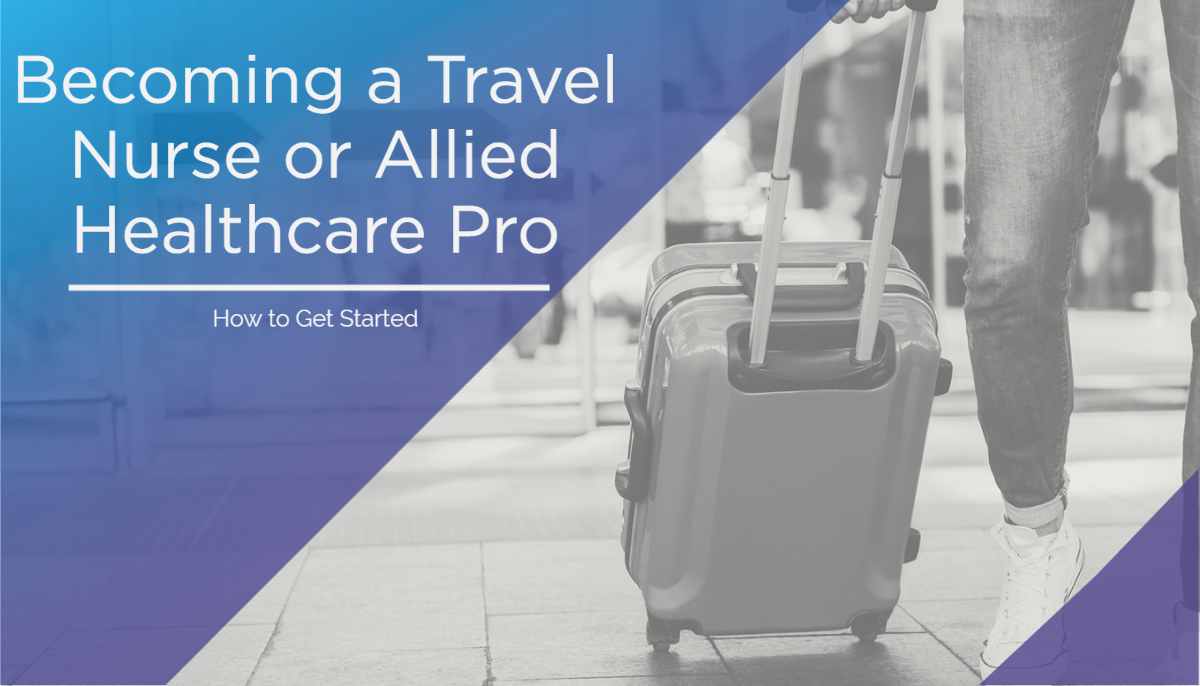 Step 1: Connect With a Recruiter
Your recruiter is your first step. We've said it before, but a short conversation with a recruiter is really key to finding a great assignment. Your recruiter will chat with you about your must-haves, nice-to-haves and deal breakers. Your recruiter will need to know where you want to go, about your specialty and experience and any pay requirements. That's it!
Step 2: Complete Your Profile
We use Kamana for your profile. You'll upload professional certifications and licenses, work history and references and complete a skills checklist. If you're an experienced traveler and just new to Triage, we know you've probably done this before. Kamana is different though, we pinky promise. Your Kamana profile is universal and can be used with different agencies. Fill it out once and you'll be able to share it with multiple agencies. Your profile is yours, not ours, and we won't hold your information hostage if you decide not to take an assignment with us. We call it our profile-back guarantee.
Step 3: Find Jobs
Four to six weeks before you want to start your travel assignment, your recruiter will start submitting you for jobs. After you start this step, things can move quickly!
Step 4: Interviewing
Now, it's time to interview. This is your chance to ask questions of the unit manager. If you need time off during your contract, this is also when you let the manager know. Make sure you connect with your recruiter about any feedback after each interview. This way if the facility wasn't a match on your end, your recruiter will be able to find you options that fit your needs better.
Some facilities will do something called an "auto offer." This is when they take a look at your resume and experience and decide whether to hire you without an interview. There are positives and negatives of this situation. On the plus side, these offers usually come quickly, allowing you to find a job fast. On the negative side, when you don't have an interview, you'll have to be diligent about asking your recruiter questions about the unit.
Step 5: Compliance
You've signed a contract—congrats! Now the work begins. At Triage, you'll be assigned a dedicated onboarding specialist who will work with you to make sure all your paperwork and compliance details are taken care of. Each facility is different, but you may need things like a physical, vaccines or vaccine titers, a drug screening and more. If possible, try to respond to your onboarding specialist as quickly as possible to move your paperwork through quickly.
When your assignment gets closer, you'll have a few HR tasks to complete. These are the fun things like benefits elections, direct deposit information and all the things that help you take advantage of Triage benefits and to ensure you get paid. Don't sleep on this step!
Step 6: Your First Day
It's here! Your first day of your new assignment. It's also the day that your health insurance and other benefits start. If you didn't have a chance to make your benefit elections, make sure you go in and do this because your coverage starts Day One and if you already have coverage, you'll want to decline it.
Depending on the facility, you may have a couple days of orientation, or you might be asked to dive right in. Travelers are expected to hit the ground running.
Step 7: Getting Paid!
When you're a new traveler, you won't be paid during the first week of your assignment. If you start on a Monday, you'll actually turn your timesheet in on the following Monday. Then, your first paycheck will be deposited that Friday. Once your first paycheck is deposited, you can also sign up for a 401k account.
Step 8: Looking For a New Assignment
About six weeks later, the process starts all over again! Do you want to extend or is there a new assignment you'd like to check out? The choice is yours! Let your recruiter know what you're thinking!
Want to connect with a recruiter who can help you find allied or travel nurse jobs? Click here and connect with us today.