From time to time, we are lucky enough to get kudos for our recruiters. We love getting compliments from travelers and we're thrilled to be able to share these. Want to send a kudos to another Triage traveler or a recruiter? Send an email to [email protected] and we'll make sure to pass on the congratulations.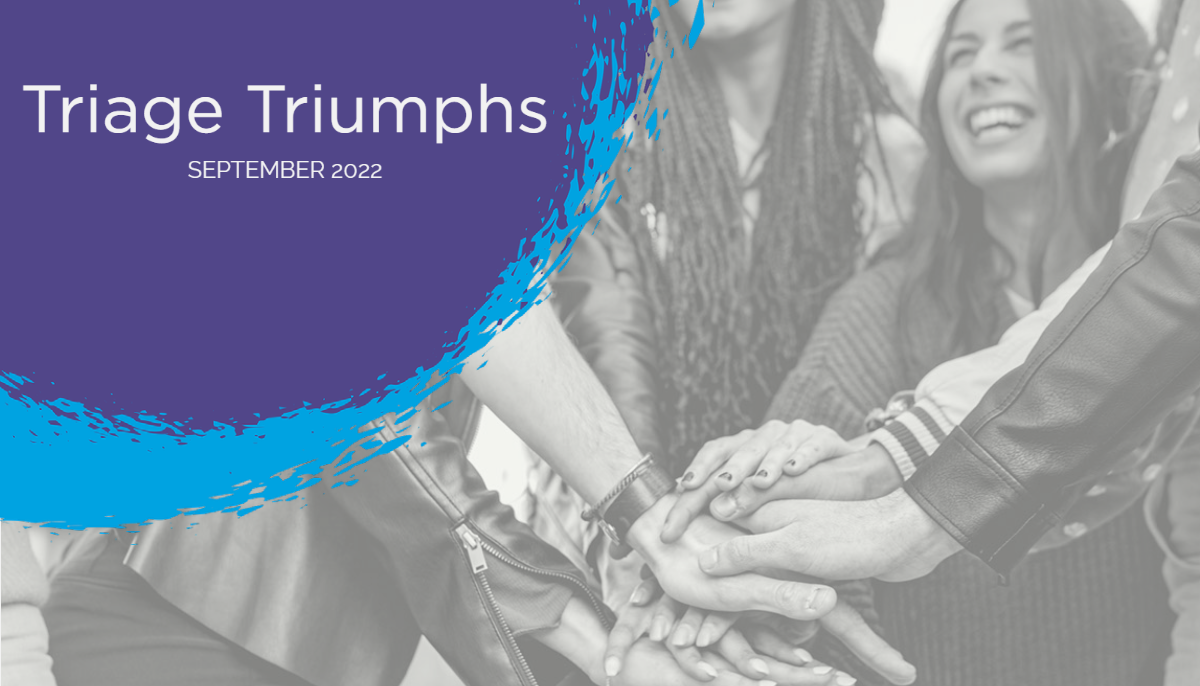 In December of 2020 and January 2021, Triage recruiter Brian Tyler had been working hard to try to land me my first travel assignment ever. I did end up working my first 2 assignments with another staffing company. However, during those 6 months, Brian would periodically contact me and check in to see how everything was going. When it came time to land my next assignment, I was having a very difficult time finding anything with the schedule I needed and that was within a certain mile radius of where I needed to be location wise. Brian was kind enough to work with me again, and did not stop looking until he found exactly what I needed. And he did so within a matter of a few days! Brian went above and beyond, and has shown that he truly is dedicated to putting his client's needs first. Brian is a shining example of how persistence pays off ; ) I want to say a HUGE THANK YOU to Brian and the gang at Team Triage! Everybody has been so kind, helpful, and welcoming during the on-boarding process! I am looking forward to working my first assignment with Triage starting next month! — Whitney
I am very happy I chose Triage staffing as my go to agency as a healthcare traveler. My recruiter Brian Tyler as well as Matt McVeigh who helped out were just absolutely amazing. I can definitely can rely on the both of them when it comes to finding my next assignment. Thanks again Triage and to my recruiter who does an awesome job. Looking forward to my next assignment. — Jefferson
My experience as a first time traveler has been phenomenal. My recruiter

Reid Johnson

has been helpful in landing me a job, answering all of my questions and keeping me informed every step of the way. I highly recommend Triage Staffing to anybody looking for travel assignments. —

Oscar
I just finished my first ever travel assignment in Montana with Tara Benge as my recruiter! 10/10 experience overall, I even decided to stay much longer than intended. I really could not have done it without Tara. Her encouragement and support got me there in the first place and made everything so easy throughout the entire process. I knew I always had someone on my side which made my first assignment way less nerve racking. I can't express enough how Tara's understanding personality and positive attitude made this experience exactly what I wanted it to be. Thanks a million, Tara!!! —

Whitney
I first heard about Triage from a traveler who came through my department. A quick Google search led to a recruiter,

Tom Marasco

, reaching out and answering my questions. He was incredibly patient as I made the slow transition from my previous job to my first assignment. I outlined what I was looking for, and he worked with me to figure out which clinic would be a good fit. 
So far, I'm having a fantastic time being a traveler and Tom has been a valuable resource. Things have gone pretty smoothly and I could see myself doing this for a while. I would recommend both Tom and Triage to anyone looking to becoming a locum. — Hannah
From day 1, my recruiter

Josh Alberola

was something special. As a new traveler he answered ALL 1,432,487 of my questions. He noticed when I would become slightly overwhelmed and jumped right in to assist. He calls to see how things are going with the assignment. My pay is always correct and on time. I've had zero issues with Triage and if I could give 10 stars I would! —

ML
After months of talking to many nurse agencies and recruiters, a friend told me about Triage Staffing and her phenomenal recruiter, Joe. I reached out to

Joe Trapp

, who my friend highly recommended, and received an immediate response. From the first phone call, I knew he was a recruiter who stood out from all the rest. He told me, "I'm here for you 24/7, day or night." He has held true to that. Fantastic communication and professionalism from Joe and everyone I've worked with or talked to throughout the onboarding process. As I am about to wrap up my first travel assignment as an ICU RN with Triage, I am resting easy, because I'm with an Agency who has my back and is already reaching out about my next adventure. Triage stands out from the rest, not only with top-notch recruiters, but also amazing technology. I love the app, Kamana – what a great platform that gives nurses control of all their work history, credentials, updated resume/skills, etc. I couldn't be happier to have made the switch from staff RN to Traveling with Triage. They truly care about their employees. Legit company. Thanks Joe and team!! —

Rachel
I have only been with Triage for a short while, but I am very impressed with their skills and professionalism, when it comes to job placement. I plan to continue to use Triage staffing for many years. Super happy with my recruiter

Nick Baxter

! —

Cynthia
I am well into my first assignment with Triage and they have been nothing but awesome. The onboarding process was smooth, my recruiter found me a great assignment, and they've been in contact to make sure everything is going well. In addition, my recruiter,

Steve Smith

, went way above and beyond when he got me information on a broker who approved my mortgage loan after I was rejected by a traditional bank because of being a "contract worker." I am so lucky to have found Triage! —

Heather 
First time traveler here going on my second assignment as a Medical Technologist. I absolutely love my recruiter

Cassi Brichacek

. She is awesome! She has been very attentive to my wants and needs, and has helped me every step of the way in securing the assignment I've been looking for. Definitely recommend her and this company if you are looking into traveling. I love what I've been doing and I'm happy to have such a great recruiter that has helped guide me through it all. I look forward to more travel assignments in the future. —

Christina
I enjoyed working with Triage. My recruiter, Jared Renken, was always reachable & responded in a timely manner! —

Mohamed
With 3 weeks left in my contract I have to take a moment to brag about my experience with Triage and my recruiter.
This is my first ever travel radiology assignment that I am currently on and I couldn't be more pleased with Triage. The onboarding process was smooth and communication is and continues to be awesome. My recruiter
Matt Warren
is the perfect guy for the job. He is professional and very knowledgeable. If he doesn't have an answer he will reach out to whoever he needs to to get an answer. But also, more importantly he is a down to earth good guy. His happy abs positive attitude is something j always look forward to when I talk to him. I am really happy I found Matt as my recruiter and I look forward to more travel contracts with him and Triage in the future! —
Megan
Want to see what these travelers are talking about? Check out our full list of allied and travel nurse jobs.