Creating a great travel allied or travel nurse resume is key to getting a great position, especially in a saturated market. But how do you help yourself stand out among the crowd? While your recruiter can be a great resource when drafting your travel nurse resume, get a head start on your allied or RN resume with these tips.
Healthcare Travel Resume Tip #1: Include Your Preferences
Make things easier on your recruiter by including your job preferences on your travel nurse resume. A few things to include are:
Preferred areas of the country
What shift you like
Desired pay
Anywhere you don't want to go
If your recruiter has all this information at his or her fingertips, it makes the entire process of finding you a position you actually want easier without a lot of back and forth that takes up valuable time. Desirable positions close quickly so having your preferences agreed on ahead of time means that your recruiter will be able to submit your resume when he or she finds one you'd like. How 'bout that?
Healthcare Travel Resume Tip #2: Snag Those Referrals Early
Referrals are so important for an allied or RN resume. Before you leave an assignment, check in with your manager and ask for their contact information and if you can use them as a referral. Having this before you leave will make things so much easier on you. And we know, making things easier on your recruiter means a faster application for you.
Healthcare Travel Resume Tip #3: Don't Be Afraid to Brag a Little
Your resume is your chance to shine! Before you sit down to create your resume, take a couple minutes and think about your career highlights. Have you worked with a specific piece of equipment that most nurses don't have a chance to use? Were you nominated for a Daisy Award? Are you bilingual? Do you have experience in multiple charting platforms? Don't be afraid to show it all off!
Healthcare Travel Resume Tip #4: Use Kamana
When you use Kamana to create your allied or RN resume, you'll have everything you need at your fingertips. In Kamana, you'll enter your license and certifications, where you went to school, your work history, any skills and skills checklists, then finally your references. Once you've got all that in Kamana, go to Sharing in the platform and click on the Download Resume button. This will create an instant PDF with all this information that you can easily share with recruiters. Need to change something? All you'll need to do is update your profile, redownload the travel allied or travel nurse resume and you'll have a new one without entering everything all over again. The best part? Your Kamana allied or RN resume is something that can be shared over and over again with multiple agencies and even with a hospital if you decide to take a staff job. It's an healthcare travel resume game changer.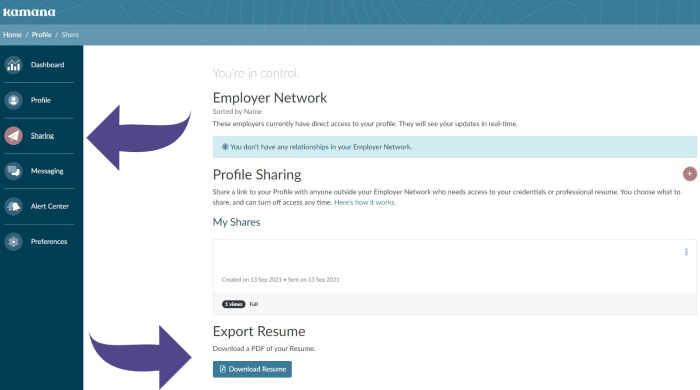 Do you need help creating an allied or travel nurse resume? Looking for a company that can help you achieve your career goals? Whether you're a seasoned traveler or looking for that first assignment to get your feet wet, Triage recruiters are experts at helping you get where you want to go, without filling your head with empty promises.