If you need some convincing to give the travel nurse gig a shot, you've come to the right place.
Read testimonials of real travelers about why this is the life and career for them.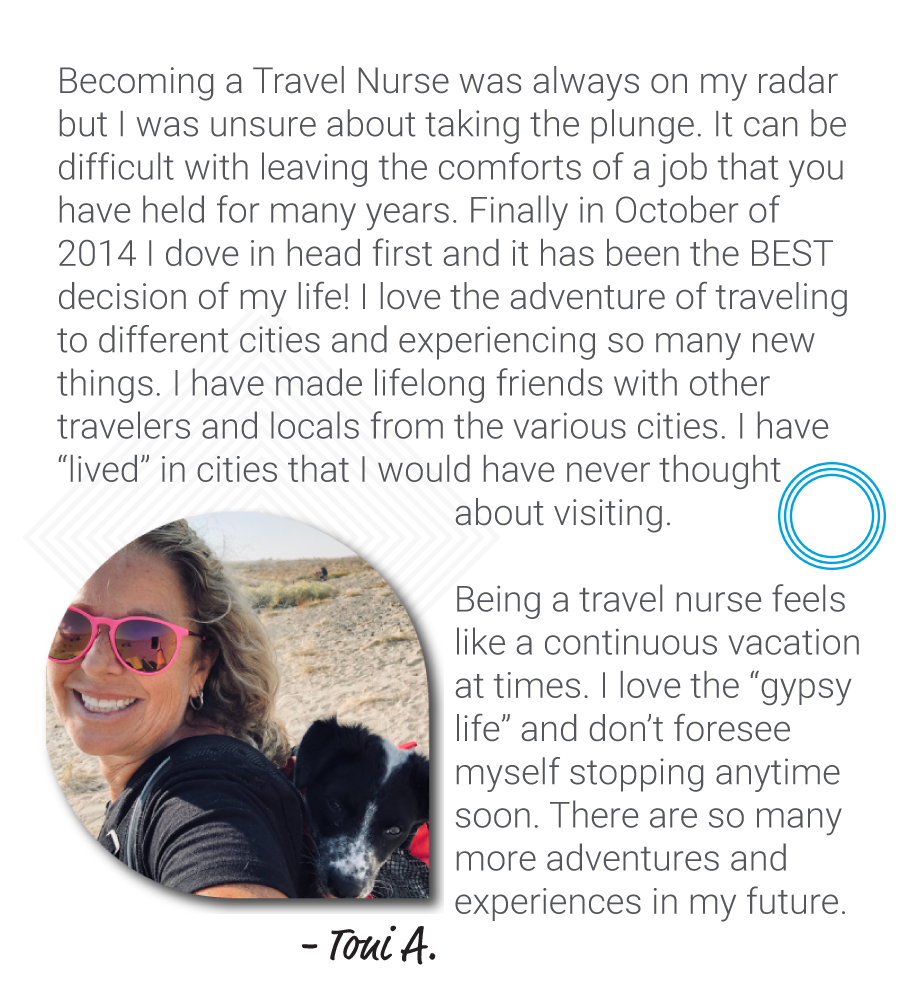 "Raised my kids, now it's my turn for adventure." -Amorine R.
"My husband is a sterile processing tech and I'm an OR nurse. We started traveling together at the beginning of 2020 after we got married. We started our traveling careers to pay off our debt from student loans and cars and escape the stress from our permanent positions. We also wanted to explore and experience new adventures." -Breanna S.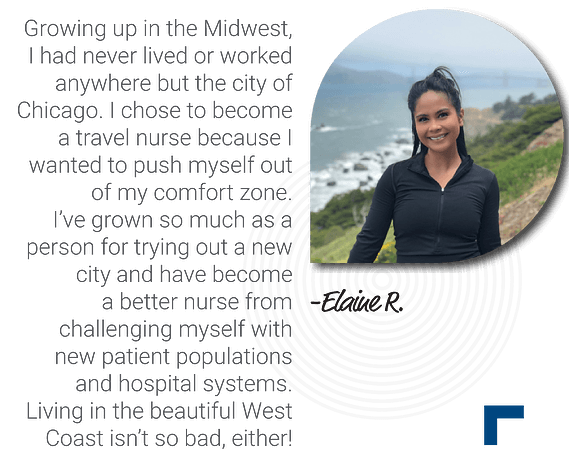 "I chose to become a travel nurse so that I could explore new places and see the world! Nursing has taught me that tomorrow is never guaranteed, and so I wanted to make the most of the time I have while I'm young and healthy. I love staying active and being outdoors and traveling has allowed me to see and do things that never would have been possible by just staying at home. I moved across the country with my dog and now he gets to see the world with me!" -Melissa B.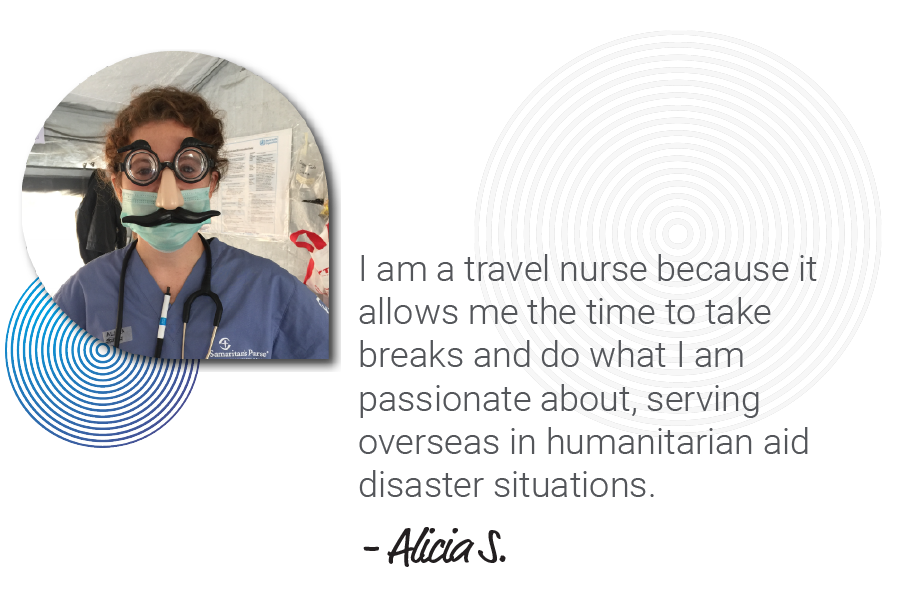 "I became a travel nurse 5 years ago because I wanted to explore healthcare and the rest of the country! I love to travel and to get paid to travel sounded like the best deal! I had known people who raved about travel nursing and was always so intrigued. After looking into it myself I knew I had to do it! 5 years later here I am! Currently on assignment in NH, looking forward to the beach and hiking this summer!" –Caleigh B.
"I chose to be a travel nurse to meet new people, see new places and gain new experiences, all while doing what I love!" -Kaitlin M.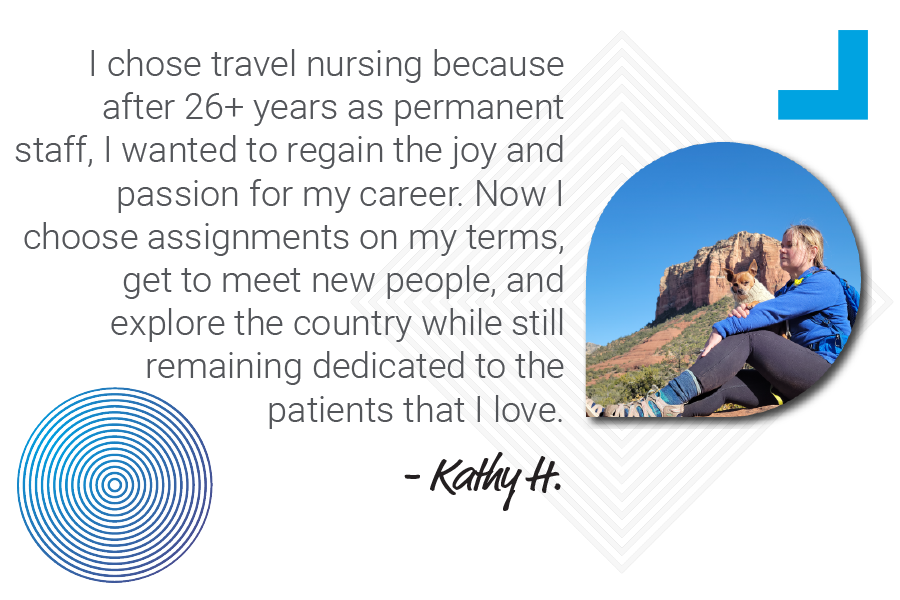 "I became a travel nurse because I get to go places on my off days that I couldn't have even dreamed of before traveling." -Melissa D.
"I love to see other places and met new people. Getting to vacation while I work is the bet way to do it!" -Menissa D.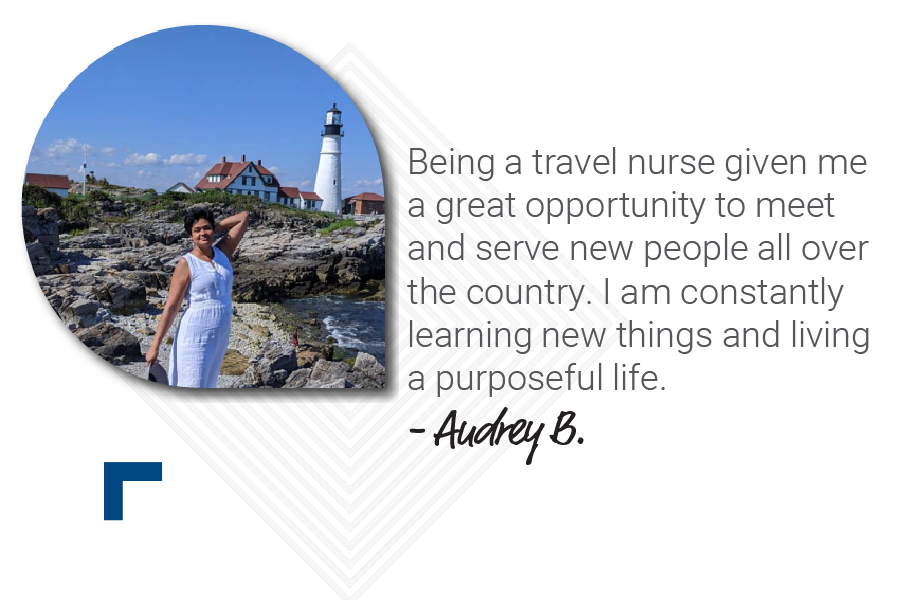 "Travel nursing has opened up a whole new adventure! I love that I get to help out in different places of need all while exploring different parts of the country and meeting some really awesome people! What an great adventure! I don't know I didn't do this sooner, but I'm glad I did it." -Sara A.
"I chose to be a travel nurse to continue learning. With very limited options to work in my area, travel nursing lets me see more than I ever possibly could as a staff nurse." -Wendy L.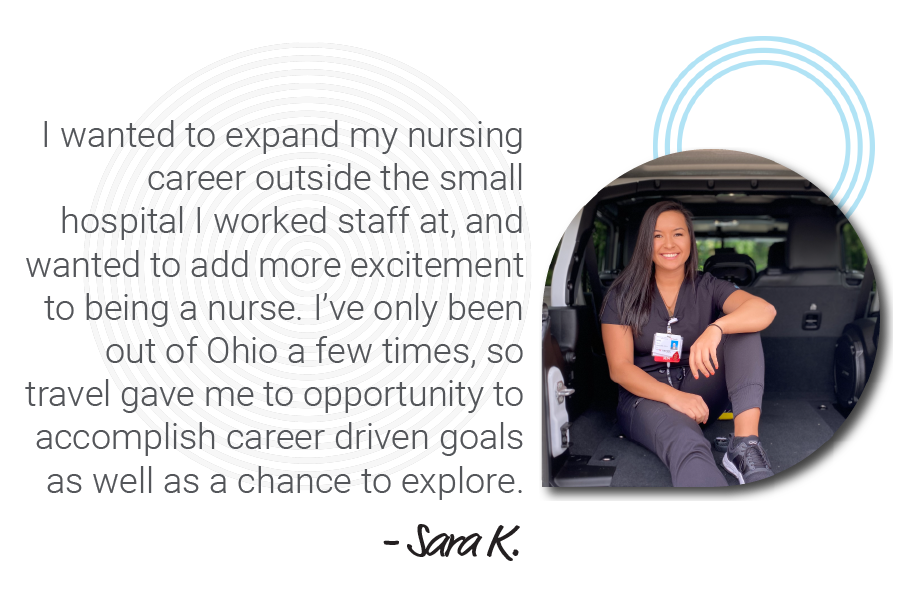 "I chose to be a travel nurse because I always loved having travel nurses at our hospital when we needed help. I want to be that help for other nurses and hospitals. I enjoy learning new ways of doing things and sharing new ideas with my coworkers. I enjoy the adventure of traveling to new places. Most importantly, I have expanded my circle of friends." -Sharon F.
"I love the diversity of patients. I love to listen about their background and future plans. I get to explore the country while doing what I love." -Malinda F.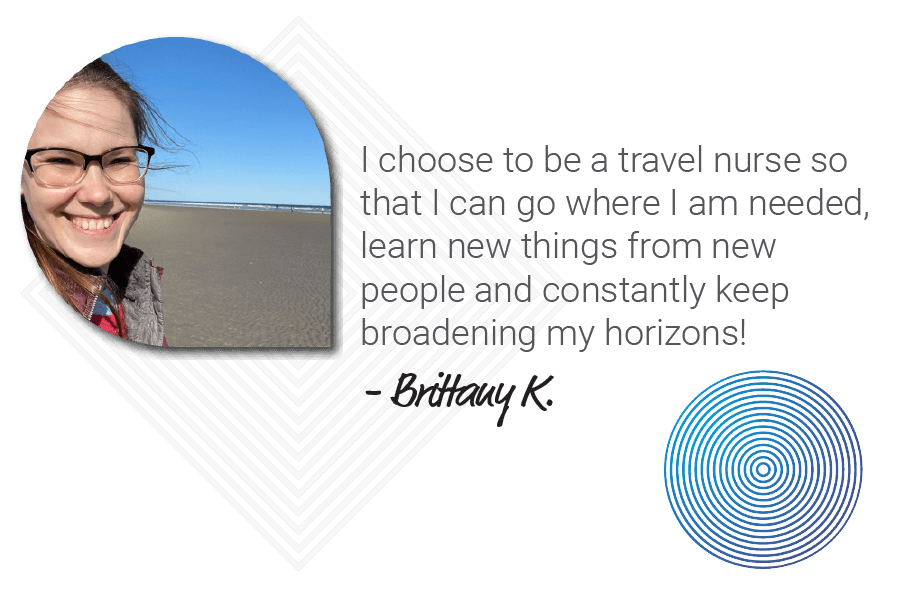 "I decided to become a travel nurse to expand my knowledge and experience. The money is great but being able to experience different hospitals and the resources they have/don't have is exciting. I also wanted to explore the US which has been thrilling." -Keisha N.
"To see the world!" -Deborah T.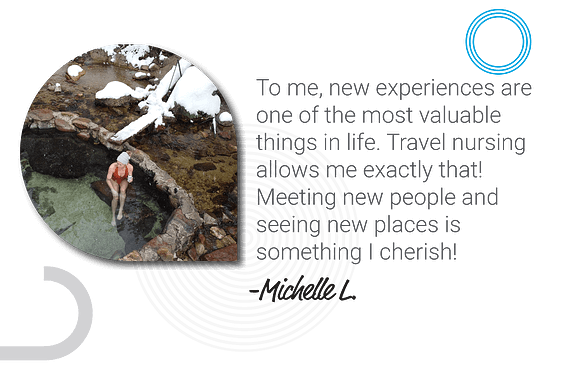 "Travel nursing started calling my name when the pandemic hit. I started seeing all the other nurses around the world struggling every single day. I knew it was time to go help where I was needed. I have learned so much, experienced so much, and have met some amazing people! I am so happy I have the opportunity to help where it is needed." -Alyssa W.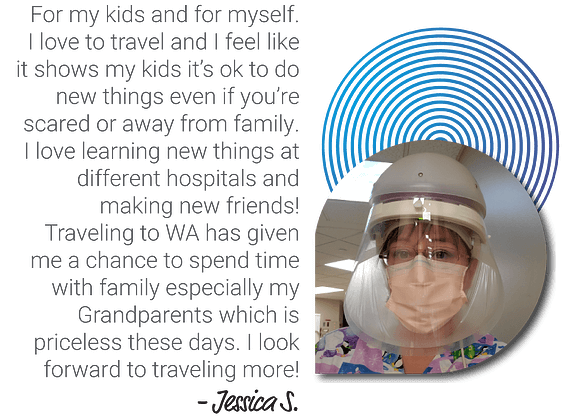 "To see this beautiful country and meet new people." -Lorna J.
"I absolutely love travel nursing because I get to meet so many new friends. I especially love working for Triage because they make my traveling from place to place so easy!!! Shout out to my recruiter Joe Trapp that has made my experience great!!!" –Amanda S.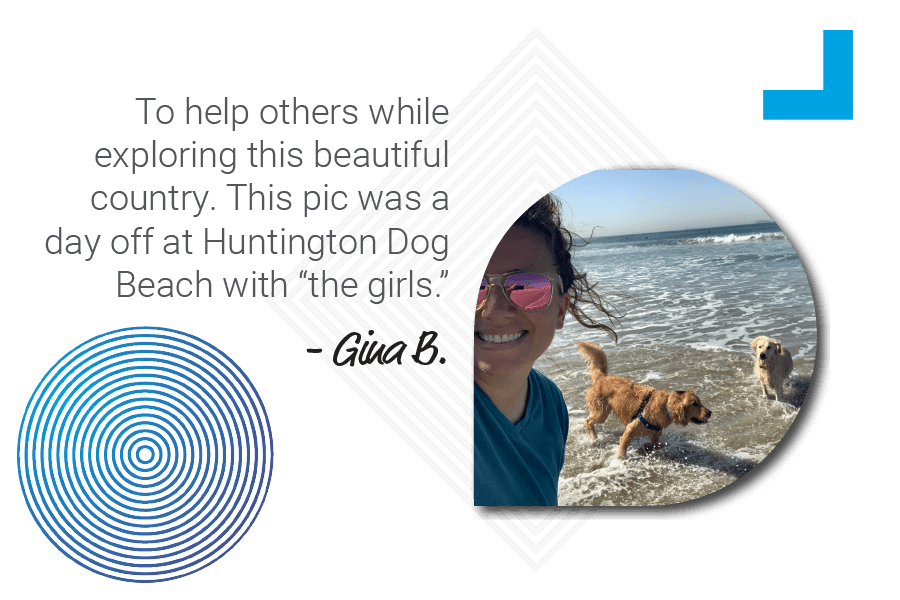 "Love the flexibility of my schedule as a travel nurse." -Karen S.
"I chose to be a travel nurse when COVID hit hard." -Melissa C.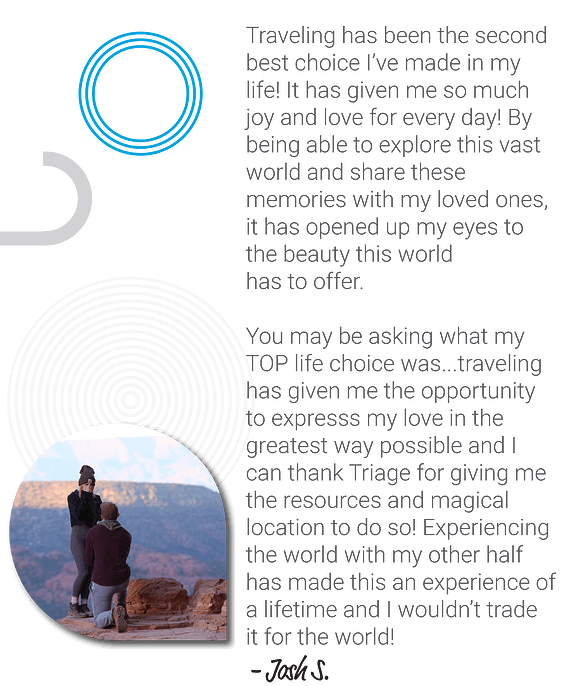 "I love to be pushed out of my comfort zone and learn new things! Travel nursing achieves both of those things. I have learned so much doing travel nursing while traveling the country! I have become more confident as a nurse! I have to thank Triage for the opportunity to become a better nurse!" -Lauren R.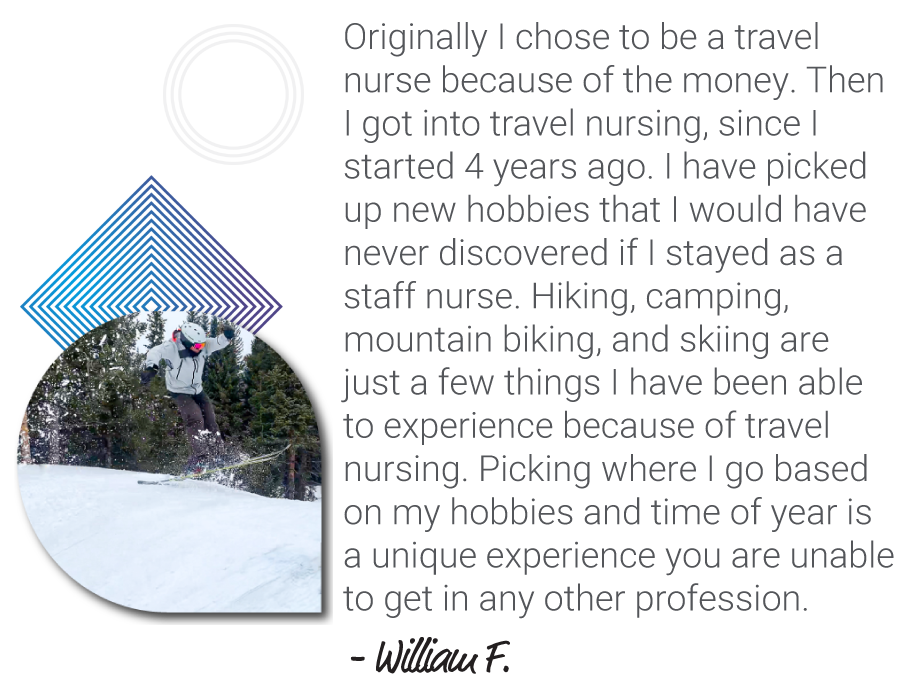 "It's great to meet new people and to enjoy the local amenities from each place." -Michael H.
"To see all that the USA has to offer, to learn and grow professionally, to seize all the opportunities available while satisfying my financial goals…and I am succeeding!" -Rhonda K.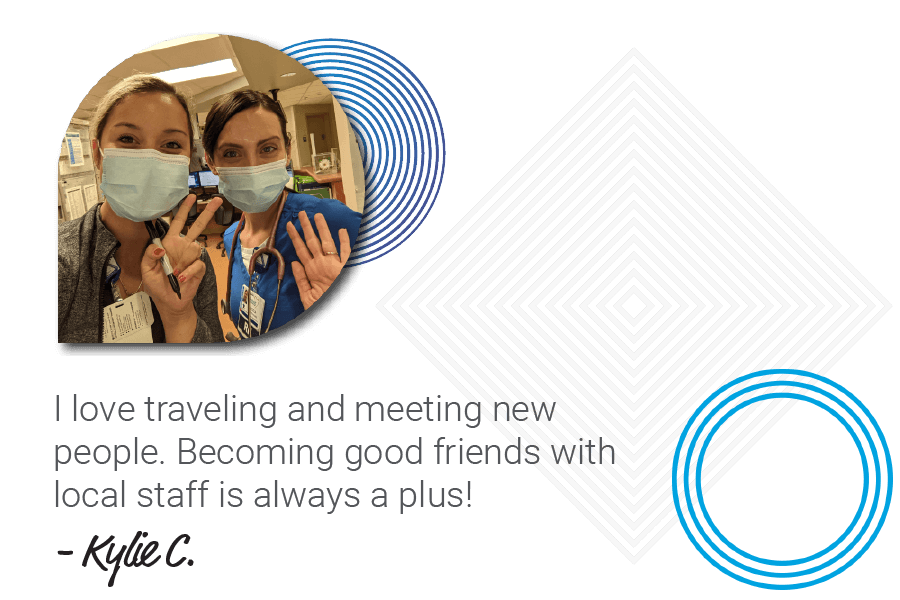 "To escape the politics of the hospital staffing! And let's be real…
for weekly pay, lol!" -Misty H.
"For the wonderful experience in Florida and meet good friends. Change is always good." -Wendy C.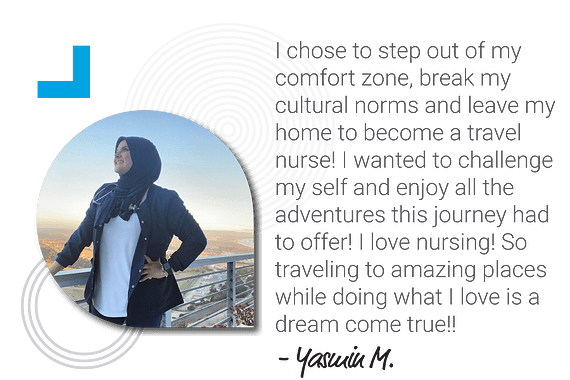 "We love seeing the country and meeting new people." -Alan O.
"I am someone who likes a challenge. Who craves change. I was sick of the day to day expectations and wanted to switch things up. Never looking back!" -Kyndra W.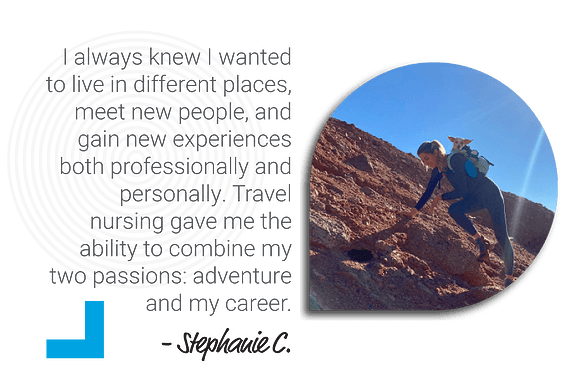 You couldn't possible need more convincing to give the travel nurse life a shot. Apply today or email us ([email protected]) with any travel nurse questions you have about traveling with Triage. We'll promise to be Real with you so you can be Ready for whatever comes next.