From time to time, we are lucky enough to get kudos for our recruiters. We love getting compliments from travelers and we're thrilled to be able to share these. Want to send a kudos to another Triage traveler or a recruiter? Send an email to [email protected] and we'll make sure to pass on the congratulations.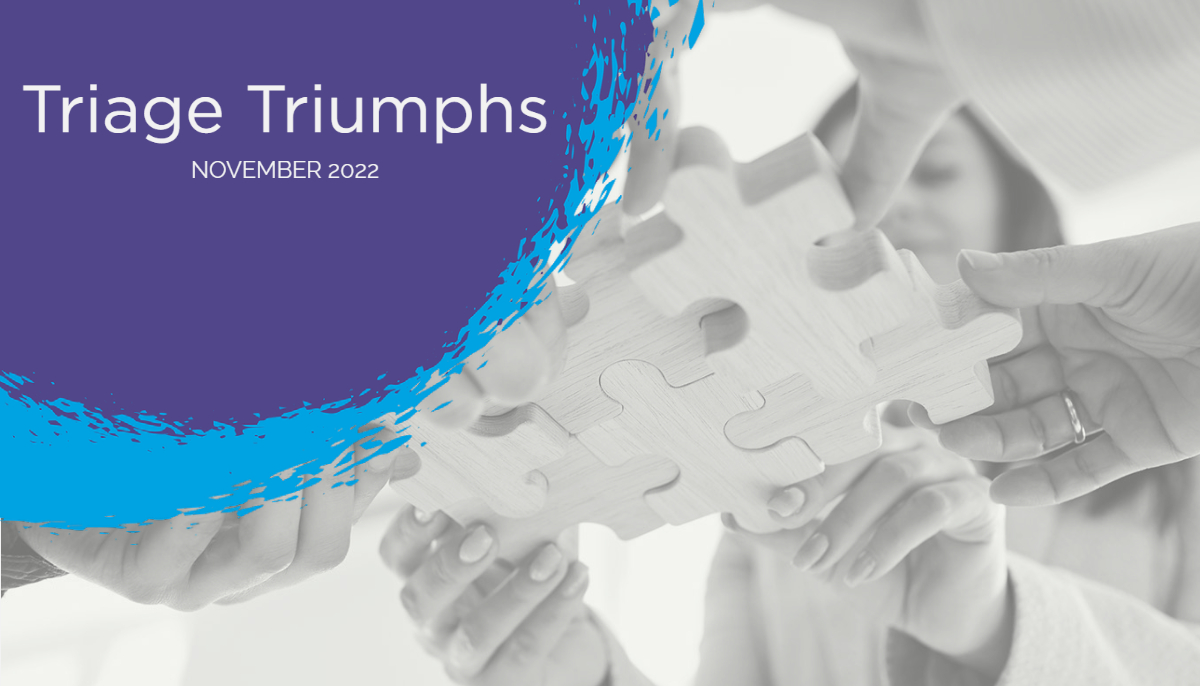 I have worked travel contracts with 4 different companies and Triage is near the top with compensation, benefits, and recruiter communication. They do a great job and I will definitely look to use there services in the future.— Joseph
Triage has been a phenomenal company to work with! I would highly recommend them to anyone who is wanting to work in travel healthcare.
Tom Juberian has been very easy to contact, cares about what I am looking for in a contract, and has always been very on top of everything! I truly could not have asked for a better recruiter. I am very lucky!
Thank you Triage! The experience so far has been nothing but wonderful! —
Kayla
I would recommend Triage to anyone that asks. The onboarding process was quick and pain free ! Becci Moore is my recruiter and deserves a shout out because she really cares about her clients. Great experience so far!!! — Laura
On my
first assignment
with Triage Staffing. They made the onboarding process very easy and everything went smoothly. They keep you well informed of anything they may be waiting on to get started on your contract on time, and the recruiter is very easy to talk to. I look forward to this contract with them. —
Amy
Triage has been incredible since I first made a profile with them. They have been so understanding and worked with me to find the perfect contract. They even put me with a recruiter who is in the military like me and understands my unique situation. Overall, it has been a great experience and I would recommend them to any health professional looking to travel for work. — Dalton
Dino is the best recruiter! So glad I switched to Triage recently for my contract! — Lauren
I am in my
first assignment
at Barnes in STL and
Louis Teal
has been nothing but helpful and accommodating. I would highly recommend working with him
. —
Ashley
My recruiter,
Nick Baxter
, has been extremely helpful and responsive and worked hard with me to get the assignment I wanted in New England. He reaches out to me and checks in to see how I'm doing which makes me fee like he genuinely cares about my success!
Megan Lindsay
, my compliance partner was great to work with and was able to help me set up all my pre-employment appointments in a timely manner so that my start date wasn't delayed. This is my first experience with Triage and it has been a very positive one! —
Tracy
On my first assignment as a MLT with Triage and Jared K. Has been very good. On the ball and kept it rolling to get me the Job I wanted. Thanks! — Krista
I'm currently on my first contract with triage as a Histology Technician. I had been talking with Patty Novak (my recruiter) for a couple years it feels like before I actually started working with them. During that time though Patty never once tried to push me into signing my first contract but instead was the most helpful person I've ever encountered. She answered countless questions some of which I probably asked a thousand times, but that never seemed to bother her and she was happy to help me anyway. I feel like I could go on for a while about how helpful she has been. It doesn't just stop with Patty though. My account manager Gabe Early has also been awesome, to be honest everyone I've talked with at triage have been wonderful. If You're looking to start traveling I believe there is no better company to work for than Triage. — Chase
I'm currently on my first assignment as a physical therapist with Triage and I have had nothing but an amazing experience! Tom J. is my recruiter and he has been extremely helpful throughout the process, always making sure my questions are answered and is super responsive. He was able to help me land a contract that was new grad friendly with competitive pay and benefits. I would highly recommend Tom and the rest of the Triage team for your next assignment! — Sarah
Want to see what these travelers are talking about? Check out our full list of allied and travel nurse jobs.