Traveler Kiabeth


+

Recruiter Kelly
The recipe for an award-winning medical staffing agency? Ingredients include:
Reliability

Respect

A dash of humor

A heavy hand of candor
But the real meat of the sandwich? Our recruiters. Just read a few traveler reviews and you'll notice a reoccurring theme—that traveler/recruiter relationship is the secret sauce and why travelers choose us over 'the other guy.'

We decided to highlight that connection this year with our "Secret Sauce" blog series. This month, read about traveling CT Tech, Kiabeth and how she found a recruiter who always has her back, Kelly Murphy.
---

How did you meet your recruiter, Kelly?
Kiabeth: I connected with Kelly through a mutual friend/traveler who would take contracts in my hometown. I had mentioned I was interested in traveling and that is when he passed on Kelly's information.

What do you like most about him?
Kiabeth: What isn't there to like about Kelly?? First off, he has the best phone voice I have ever heard. He is always there for anything I need and is quick to respond, which is huge for me. I can be a bit of a pain, but he is patient with me and always answers any questions I have and has my back.
Kelly: She is consistently entertaining, yet always professional.


What is one word that best describes your recruiter and why?
Kiabeth: Loyal/trustworthy. In the 6 years I have been traveling, there has only been one time I went with another company. I had issues with the recruiter and reached out to Kelly with some questions, and even though he was not my recruiter and I was with another company, he was willing to help me out. He always gives it to me straight, no beating around the bush, that is why I always refer new travelers to him. The traveling world is very intimidating for new travelers but with a recruiter like Kelly, it is easier to handle.
Kelly: One word? Engaging. Likes to live life and have fun!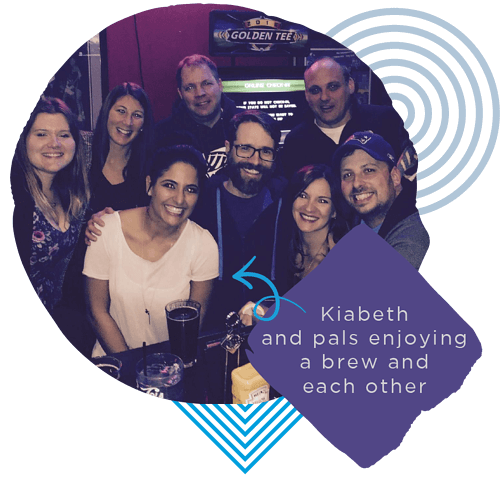 ---
Breaking it up a bit; let's see how similar these two radiology buffs are:
Snow or sand?
Kiabeth: Sand.
Kelly: Sand.
⭐ Match
Pizza or burger?
Kiabeth: Pizza.
Kelly: Pizza Burger.
⭐ Match (count it!)
Call or text?
Kiabeth: Text.
Kelly: If you're engaging like Kiabeth, call! Otherwise, text.
⭐ Match-ish?
East or West coast?
Kiabeth: West coast.
Kelly: MIDWEST ride-or-die.
❌ Whammie
Pancake or waffle?
Kiabeth: Waffles, they have pockets for my butter and syrup.
Kelly: I go for the syrup, so waffles.
⭐ Match
…"Pizza burger?" Really Murph?




4/5 because of Murphy's allegiance to the Midwest. *Awe*
---

Spill the beans—any funny, interesting or out-of-the-ordinary stories?

Kiabeth: I cannot disclose this information; all I can say is an email, that was meant for another recipient, was sent to Kelly…


What's the most important thing to you when deciding to work with a recruiter?
Kiabeth: It is very important for me for a recruiter to be honest with me; give me the good, the bad, and the ugly.

When deciding to work with a traveler?
Kelly: Transparency. Shoot me straight and I promise to always do the same; no time for games.

Growing up, what did you want to be?
Kiabeth: What didn't I want to be when I was little? All the things! But, the older I got the more I leaned towards something in the medical field.
Kelly: Professional baseball player and/or disc jockey.


What's the biggest misconception people have about your job?
Kiabeth: That radiologic technologists are merely button pushers who take crash courses. When, little do they know, it is a 2-year program with a requirement of almost 2000 clinical hours to graduate.
Kelly: That it's all about making as much profit as possible, regardless of the tech's wants and needs. Absolutely not true.

Why did you decide to become a traveler, or recruiter?
Kiabeth: I decided in 2015 to become a traveler and Kelly was my first call; longest, healthiest relationship I have had.
I decided to become a traveler because I was tired of the greed and politics of a for-profit hospital. They lost focus on the patient care aspect of our jobs and just focused on the money. I went into healthcare but figured, with traveling, I could focus on my job and not have to worry about the politics.
Kelly: I became a medical recruiter in 2001. Had a friend who worked in the industry and he enjoyed it. Here I am, 20 years later.

What's the best part of being a traveler, or recruiter?
Kiabeth: I love being able to improve on my skillset everywhere I go. I learn at least one thing at each facility, sometimes small, sometimes big. I enjoy meeting new humans and have even formed some amazing friendships along the way.
Kelly: I'm basically self-employed in that I have the autonomy to run my desk as I see fit.

What motivates you?
Kiabeth: As cliché as it may sound, my family motivates me each and every day. I have a niece and twin nephews who, I hope at some point, will look up to their aunt Tia and be reminded that, in all aspects of life, it is always okay to start over no matter how hard that may be to do.
Kelly: Motivation? I don't want to be last.


Why Triage?
Kiabeth: I chose Triage based off of a recommendation from a fellow traveler, and I do not regret that decision. I have read many horror stories about recruiter and traveler relationships and it makes me that much more grateful to have Kelly in my corner. Triage is a company that has their traveler's best interest at heart and will go above and beyond if need be. I have referred numerous travelers to this company based on my positive experience, and will continue to do so.
Kelly: I co-founded Triage in 2006 and don't plan on going anywhere until retirement or I hit the lottery.
Ready to jump in and go for it? If you're a radiology pro, set up a time to chat with Kelly.
If you're a medical pro in a different field who's ready to go after it, apply today or email us ([email protected]) with any questions you have about traveling with Triage.