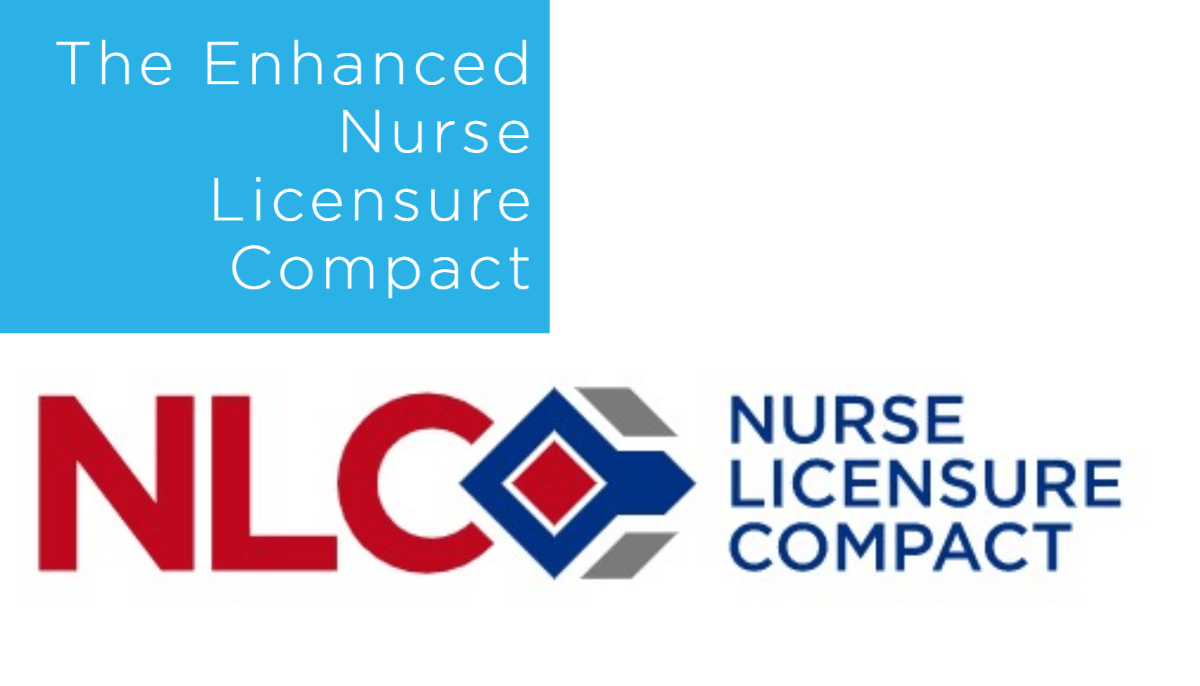 Originally started in 2000, the Nursing Licensure Compact (NLC) is an agreement between individual states to allow nurses to practice in other states without obtaining a separate license.
In 2018, the Enhanced Nursing Licensure Compact (eNLC) was implemented. The eNLC has a set of standard licensure rules, such as requiring applicants to go through both state and federal criminal background checks, which the NLC was lacking. Want to learn more, including which states participate in the eNLC? Keep reading!
Current eNLC Members
Alabama
Arizona
Arkansas
Colorado
Delaware
Florida
Georgia
Guam
Idaho
Indiana
Iowa
Kansas
Kentucky
Louisiana
Maine
Maryland
Mississippi
Missouri
Montana
Nebraska
New Hampshire
New Jersey
New Mexico
North Carolina
North Dakota
Ohio*
Oklahoma
Pennsylvania*
South Carolina
South Dakota
Tennessee
Texas
Utah
Vermont*
Virginia
West Virginia
Wisconsin
Wyoming
*Law passed and pending implementation
Nursing Licensing Requirements for eNLC States
There are 11 standard license requirements that nurses need to meet to qualify for an eNLC. While each state does have their own guidelines and requirements for a state license, eNLC states all agree to these 11 requirements.
Meets the requirement for licensure in their state of residency

Has graduated from a board-approved program OR an approved international educational program

Has passed an English proficiency exam if English is not their native language or they graduated from an international program

Has passed an NCLEX-RN or NCLEX-PN

Is eligible for or holds an active, unencumbered license

Has submitted to federal and state fingerprint-based criminal background checks

Has no state or federal felony convictions

Has no misdemeanor convictions related to the practice of nursing

Is not currently a participate in an alternative program

Is required to self-disclose current participation in an alternative program

Has a valid Social Security Number
Why Should Travel Nurses Care About the eNLC?
Why the heck should a travel nurse care about the eNLC? Nurses who practice in an eNLC state and hold a valid license from that state have a lot more opportunities than nurses from a non-eNLC state—they can practice in any state that is a part of the agreement. It reduces red tape, applications and fees for nurses who want to travel and work. Win-win!
Travel Nurse Benefits of the eNLC
Saving money on licensing fees—before the eNLC or the NLC, travel nurses had to pay for a license in each state they traveled to. These fees can range from hundreds to even thousands of dollars for a single state! Since many traveling nurses travel so they can increase their paycheck, these fees prohibited many of specific states unless it was a highly desirable location. Enter the eNLC and an easier licensing process for travel nurses.
More locations and opportunities—holding a license in an eNLC state opens your travel potential to every other eNLC state. This makes it easier to be flexible when it comes to upcoming assignments. If you're looking to settle down after traveling, an eNLC license can make it easier to find a location and even opens up telehealth jobs.
Less down time between assignments—some nurses move from one assignment to another with little down time. If you're one of these travel nurses who's constantly on the go, having an eNCL license means you can quickly move from one location to another without a lot of fuss or downtime.
States are continuously reviewing legislation to allow them to join the eNCL. To stay informed on the latest developments, check out these resources.
Official Website of the Nurse Licensure Compact
Facebook—nurselicensurecompact
If you're looking for your next opportunity in an eNLC state, don't hesitate to reach out to your Triage recruiter or search our list of allied and travel nurse jobs.