This month we're highlighting Hispanic prominent figures in the medical field to celebrate National Hispanic Heritage Month. Up next is Rosa A. Gonzalez, a nurse in Puerto Rico. Born in 1889, she was still a child when Puerto Rico became a territory of the United States.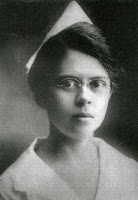 She became interested in nursing while in attending secondary school. Although her family protested, she enrolled in the Presbyterian Hospital School of Nursing in San Juan and earned her nursing certificate in 1909. Five years later, she moved to New York City and received her RN degree at the New York Presbyterian Hospital.
In 1916, she returned home to Puerto Rico and organized the Dr. Susoni clinic in Arecibo. She also founded The Association of Registered Nurses of Puerto Rico. The organization worked to raise funds to open the Club de Nurses, a home where nurses could recover from illness or injury. The next year, Gonzalez wrote her first book, a medical dictionary for nurses.
In 1918, the world was dealing with an outbreak of swine flu and Puerto Rico was no exception. Puerto Rico opened a 400 bed hospital in Ponce to care for those infected.
Some of her other roles, included:
Director of Emergency Unit in Mayaguez
Director of Puerto Rico's Presbyterian Hospital School of Nursing
Director of nursing at Hospital Episcopal San Lucas
Educator for Sanitation Department of Puerto Rico
Director of American Red Cross dispensary
Executive Secretary of the Association of Graduated Nurses in Puerto Rico
First recipient of Garrido Morales award
The Salud Pro-Mujer also created an award in her honor, known as the Rosa Gonzalez Award. Recipients are those who have worked to improve the health of women.
Gonzalez passed away in 1981.