We like to ask each featured employee to tell us about themselves and what sparked their decision to work at Triage. Read on to learn more about Robyn.
Robyn Reinig 
Nicknames: Rob, Missy (childhood nickname)
Recruiter, Nursing
Do you have any pets?:
One dog: Eden, 2-year-old Goldendoodle.
Do you have any kids?
No human kids, just a fur-baby!
Three nouns and three adjectives to describe yourself:
Country-Girl | Home-Body | Amazon-Lover
Talkative | "Germaphobe" | Determined
Triage Talk
What led you to becoming a recruiter?
Funny story: I actually interviewed for a compliance specialist position at Triage. After the interview, I got a call from Ray saying I didn't get the job but they wanted to bring me on as a recruiter… and the rest is history!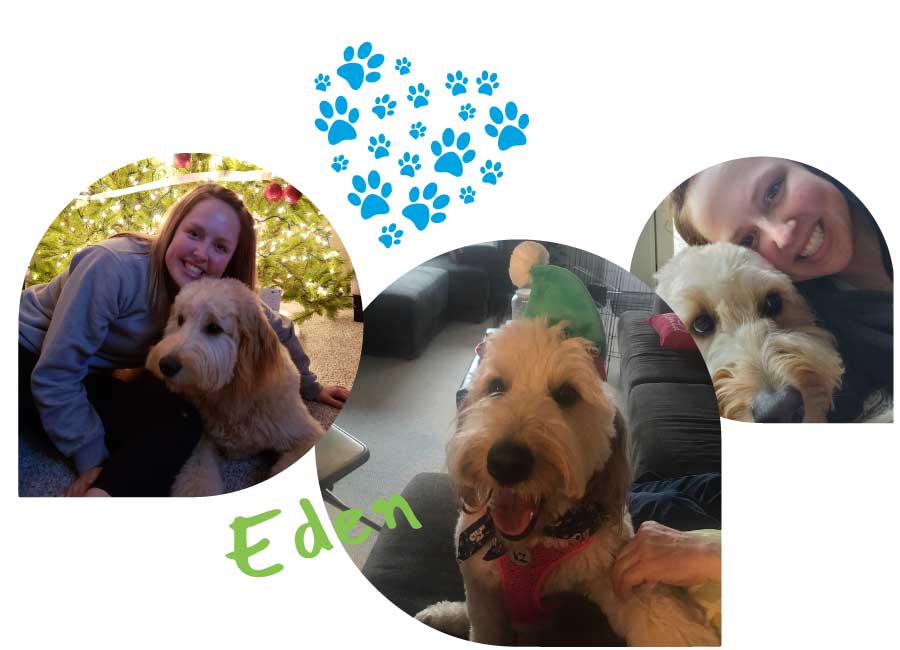 What do you like most about being a recruiter in the medical industry?
I never imagined recruiting would be more than just talking to people. I love learning about individuals, as everyone is different. I love helping people reach their goals like paying off debt and credit cards, getting that dream job and expanding their medical career!
What's the best piece of professional advice you've ever received?
NEVER LIE—even if it means having the tough conversation. I have become closer to travelers just by being honest and giving them facts. It's easier to trust someone when you know they have your best interest at heart. I don't work for the travelers and the travelers don't work for me—we do this together and make it work as a team!

Just for Fun
What's something—big or small—that you're really bad/good at?
I am a terrible cook! As you can see in the picture, I had to visit the The Pioneer Woman for help!
What's one totally irrational fear that you have (or had as a child)?
I hate thunderstorms. HATE THEM!
What's your favorite state you've been to and why?
I am going to cheat a little here and say the TRI-"state" area! I was raised in Iowa, went to school in Missouri, and now live in Nebraska. This area is so important to me; no other individual state will give me the people, memories or experiences I have had here. All my "favorites" are here!
What would we most likely find you doing on the weekend/in your free time?
Anyone that knows me, knows I am a home-body. So, you can find me at my home, Target, or my parents farm.
Describe one experience you've had where you took a huge leap of faith:
I would have to say taking this job at Triage. As mentioned before, I didn't apply to be a recruiter, it just kinda happened. I didn't know anything about the medical field and as most of you know I can't stand the site of blood or anything that involves seeing inside the human body. I am so blessed that life happened this way and I try not to take things for granted. I am so fortunate to have my past as it's made me who I am!
What do you like most about working with Triage?
Hands down it's the people: internal and external. My internal coworkers are here for me no matter what. Through the ups and downs, I know I can always count on them. Some of my best friends are inside the walls of Triage and I am so thankful for that.
The nurses and techs out in the field have become like family too! I don't get to meet 90% of them but I know they are there. Getting to know not just the individual but allowing me into their families is something I never imagined I would get in this job. From celebrating weddings and babies to helping them through the struggles of life—it's so rewarding to watch people grow, not just professionally, but personally, and allowing me to be a part of it!
Thanks, Robyn!
We love highlighting our internal team each month because it gives everyone an opportunity to learn how amazing our team really is! Ready to join the Triage Staffing family? Search allied and travel nurse jobs today.
Know somebody who would be a good fit with Team Triage? Refer them today and you'll get a nice reward.