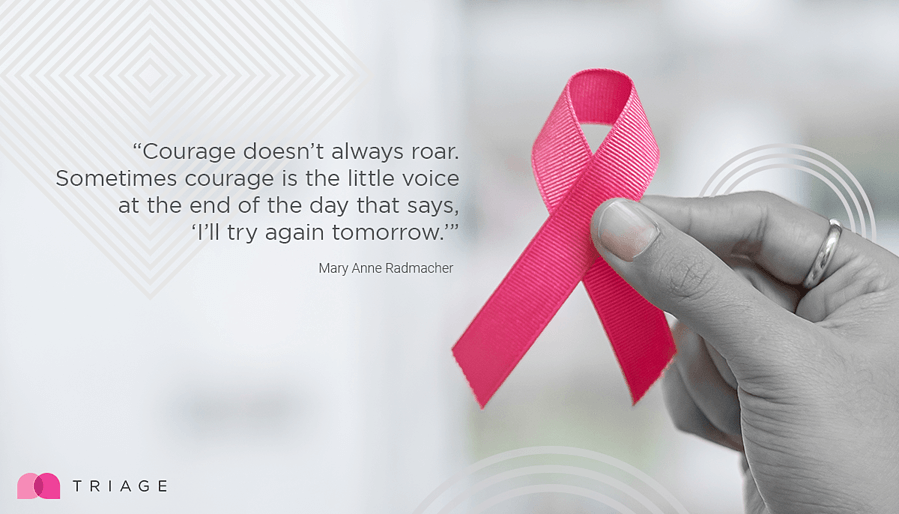 Join us for a month of health, healing and hope as we raise awareness and money to fund research, increase access to care, support the survivor community, and commit to action.
Team Triage spans the entire US, so getting us together for an event presents some challenges. Okay, it's damn near impossible. However, we've come up with a few ways to bring our team together, no matter where you are, for a common goal.
Check it out and sign up for one, or all of the ways you can join us today in the fight against breast cancer.
---
More Than PINK Walk
Who: You and anyone you want to join you
What: More Than PINK Walk
Where: Wherever You Are, USA
When: Saturday, October 23 | Anytime
Join the Race for a Cure effort lead by the Susan G. Komen foundation. Each year, races are organized in dozens of cities across the US to raise money for the cause.
Even if there isn't a local race near you, you can still register to run/walk and raise money through their More Than Pink Walk.
We've created a team, Team Triage (what else?), for you to join. Our overall goal is $1,000! Think we can do it? Or BEAT it? Help us by signing up today.
You can complete your run/walk at any time during the month of October. But the majority of folks will be completing theirs on Saturday, 10/23, and sharing it on their social media pages.
When registering, choose the option "Join a Team" and search for "Team Triage." High five, pal! Let's get this.
---
One in Eight
Who: Survivors of breast cancer; those who have a friend or loved one who has fought breast cancer; those who are passionate about the cause
What: Personal stories and insights
When: Now through October 25
One in eight women will be diagnosed with breast cancer in her lifetime. Those are crazy-high odds and why it's so important to raise awareness of the disease as well as early detection, dense breast tissue, etc.
With those crazy-high odds and as unfortunate as it is, we suspect you or someone you know might have been diagnosed with breast cancer. Or, maybe it's just a topic you're truly passionate about. If that is you, we would love to hear from you!
We'd love to share your stories throughout the month. If you could take the time to answer a few questions, we'd be so appreciative.
---
Wear Pink Wednesday
Who: You and your friends/family/coworkers
What: Wear Pink for the cause
When: Wednesday, October 13
The easiest of the ways to help us raise awareness of breast cancer. And the most fashionable.
Wear ALL the pink on Wednesday, October 13th. Send us a picture of you in your pink and be entered to win a new Triage tee!
Better yet, upload your picture to Facebook or Instagram, tag us @TriageStaff and be entered to win $100 gift card. What, what!
CLICK HERE to submit your photo
---
Thank you for helping us with a cause that is undoubtedly near and dear to many hearts. We appreciate you rallying with us and helping us spread awareness about this disease.