This month we're highlighting prominent figures in the medical field and next up is Thelma Brown Pendleton, PT.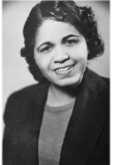 Born in 1911, Pendleton began her career as a nurse, graduating from Provident Hospital's School of Nursing in 1931. She worked as a pediatric nurse at the Rosenwald Foundation from 1931-1932 and then was a staff nurse at the Visiting Nurse Association in Chicago until 1945.
She wanted to pursue a career in physical therapy, but until the mid 1940s, black students were not welcome in PT programs.
As soon as she was allowed, Pendleton enrolled in the PT program at Northwestern University. After graduation, she returned to Provident Hospital (the first Black owned and operated hospital in America) to found the hospital's PT program. She stayed at Provident Hospital until 1955.
In 1956, Pendleton became the physical therapy consultant for Parents Association Incorporated and then worked for the United Cerebral Palsy of Greater Chicago's Piper Portal Schools, first as a consultant and then as its director. She then became the director of physical therapy services at LaRabida Children's Hospital and Research Center until 1975.
Come back next week as we highlight other prominent Black contributions to medicine.