New places, new foods, new adventures – you're sure to get struck with the urge to document your travel experiences. Even if you aren't a photography pro, it's completely possible to take some shots that will awe your friends and family, and hold a special place in your photo album. These tips and tricks will help you capture those memories in a way you never thought possible.
photography gear
First up, let's talk about the tools of the trade. You don't necessarily have to have a fancy DSLR setup to take good looking photographs. You don't even have to know what a DSLR is to take a cool photo. Whatever device you're using, even if it's your smartphone camera, you should know its capabilities and be able to work its settings to the best of its ability. Being able to adjust parameters like shutter speed, ISO, aperture, etc., will allow you to fine tune each shot so it can look its best. Start by learning the ins and outs of what you're shooting with and getting a handle on how to work those controls.
Research Your location
Location is an important factor in the quality of your photos. Before you head out on assignment, it might be a good idea to make a list of spots you'll want to shoot. You should definitely pick locations that are intriguing to you, but a word of wisdom: try to expand your list beyond the most obvious tourist destinations to give your photo reel some extra spice. Hitting up the standard hotspots in whatever city you're headed to will come with a higher likelihood of you producing boring, ordinary photos that look like everyone else's. If you're dying to get a shot of a city landmark, try taking the shot from an unexpected angle. Expand your range, and watch your shots come alive.
Take advantage of the morning sun
Natural light is great for photographs, but here's a tip you might not have realized — the overbearing luminosity of the midday sun can quickly dash whatever hopes you had for taking dynamic, breathtaking photos. Instead, grab a coffee and time your outdoor shooting session for the morning or snag a quick drink and do it in the evening, when the sun is lower in the sky. Your colors will appear more vibrant, and the rising/setting sun will make for a dramatic backdrop.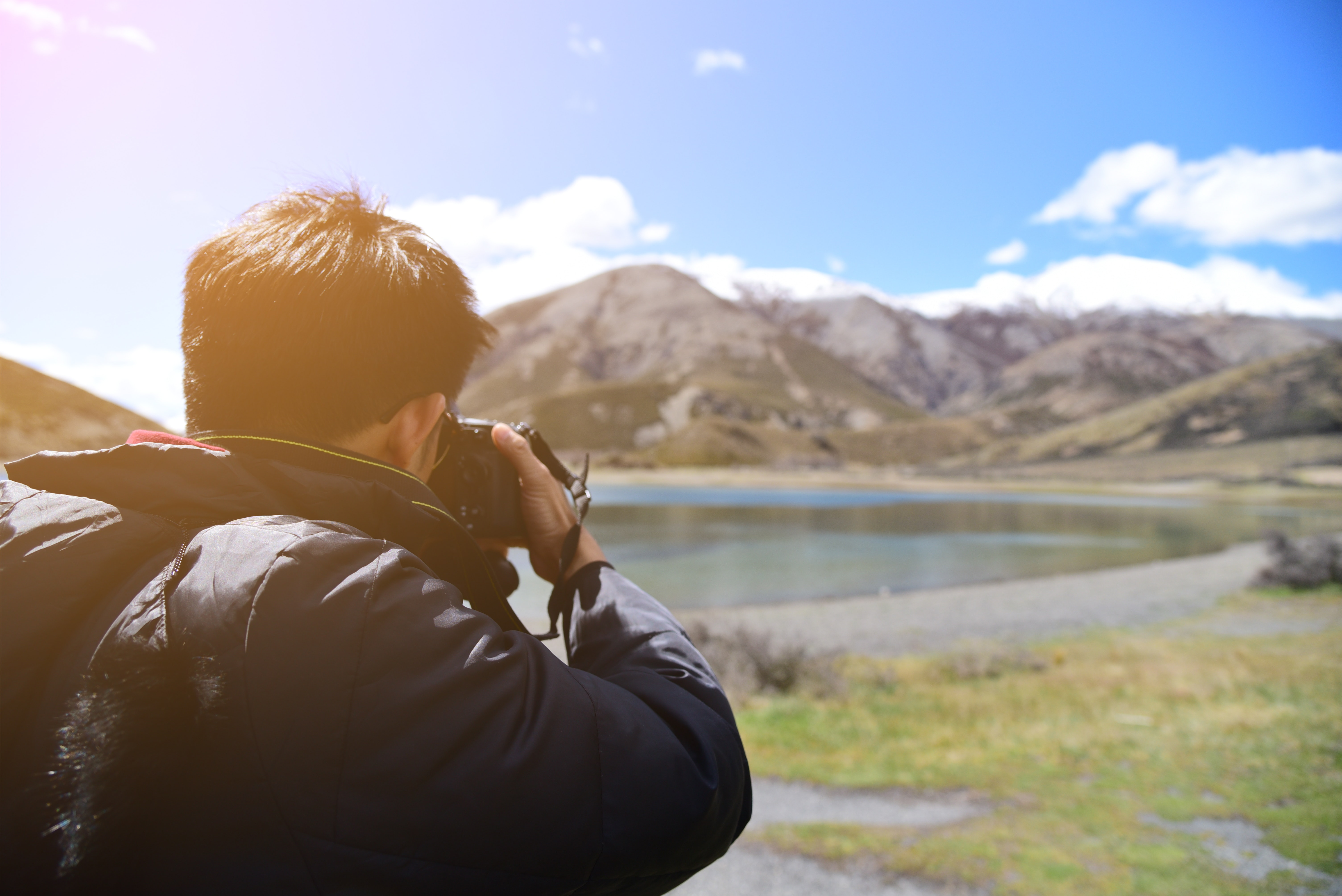 photography basics
There are many rules involved in proper photo taking technique. For a beginner, though, there are four you should heed that will help you immensely in improving your photography game:
Composition — When we talk about composition, we're talking about the totality of what we see in your photograph. When setting up a shot, you should try to properly define what your subject is, and avoid distractions that might take away from the impact of your photo.
The Rule of Thirds — To make a long story short, the rule of thirds is about how to compose your shot so that a viewer's eyes immediately hit the most interesting point. You want to imagine your photo being segmented into thirds, both horizontally and vertically (giving you nine separate blocks), bearing in mind that people will naturally view the left or right first (as opposed to the center).

Headroom — If you're taking a portrait, be sure to experiment with the amount of headroom you leave above the top of your subject to maximize how visually appealing your photograph is.
The Golden Ratio — In photography, you can use the golden ratio to achieve the maximal amount of balance in your shots, creating images that are pleasing for the human eye to look at. There's some overlap with the rule of thirds here, but enough distinction that you'd do well to delve deeper into the topic for a more complete understanding of it.
Avoid Amputations — When taking or editing a photo, be sure not to "amputate" limbs. A good rule of thumb is to avoid cropping the photo at the joints. There are two exceptions: it's generally okay to crop near the knees (try to go slightly above the knee), and you should try to avoid cropping at the shins.
The takeaway here is that you should pay close attention to how you compose and frame your pictures for maximum dramatic effect.
move your body
You won't take great photographs if you take all your shots from the same standing angle. Get creative with your approach by going higher (or lower) to catch your subjects from a different perspective that lends them more visual weight. You might feel weird dropping to a knee or laying down to take those shots, but trust us, your photos will have an interesting element and angle that's sure to make them pop!
capture candid moments
You'll want to start moving beyond the standard travel photos where you have all your subjects standing stiff and posed as if they know they're being photographed. You can add a genuine touch to your images by capturing those candid moments, having your subjects act naturally, then catching the best shots as they arise organically.
photo editing tools
While the best photos are often the ones that require little post-production, you can get a lot of mileage out of some skillful photo editing — and without having to drop a lot of money on professional software. Check out tools like GIMP, Gravit, and Pixlr for a photo editing solution that will fit your budget while simultaneously offering robust features.
We're hoping you'll share more of your photos with us. Truth be told, we kind of live vicariously through you folks, so please send your recruiter photos of your adventures or tag us in them on social media. Each Wednesday we'll feature a traveler photo. If that photo is yours, your caffeine fix is on us. We'll send you a coffee reward via email, redeemable at one of five coffee spots for your convenience. If you're interested in learning more about Triage and the healthcare travel opportunities that await, be sure to visit our allied and travel nurse jobs page for more info.