Dr. William Rush Dunton, Jr is known as the father of OT.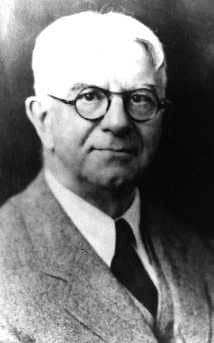 He graduated from the University of Pennsylvania Medical School in 1893 and worked in a variety of hospitals in the Philadelphia area. He trained at Johns Hopkins under Howard Atwood Kelly, one of the founding professors at Johns Hopkins.
Dr. Dunton believed strongly in the healing properties of engaged activity, rather than meaningless exercises. He had his patients complete activities like quilting and making hooked rugs in his therapy practice and even trained nurses in occupational therapy during rehabilitation. He believed that the bright colors in both the quilts and the rugs were pleasing and that the active cutting, sewing and needlework helped take a patient's mind off his or her own troubles.
During his career, he published more than 120 books and articles on occupational therapy. Some of his published works include:
The Principles of Occupational Therapy
Prescribing Occupational Therapy
Reconstruction Therapy
Additionally, he served as the editor of Archives of Occupational Therapy, which is still published as the American Journal of Occupational Therapy. He also served as the first President of the National Society for the Promotion of Occupational Therapy, which is now known as the American Occupational Therapy Association.
In 1958 he was honored by the American Occupational Therapy Society and in 1979, he was inducted into the Quilters Hall of Fame for his contributions to the art form.
Dr. Dunton died in 1966.