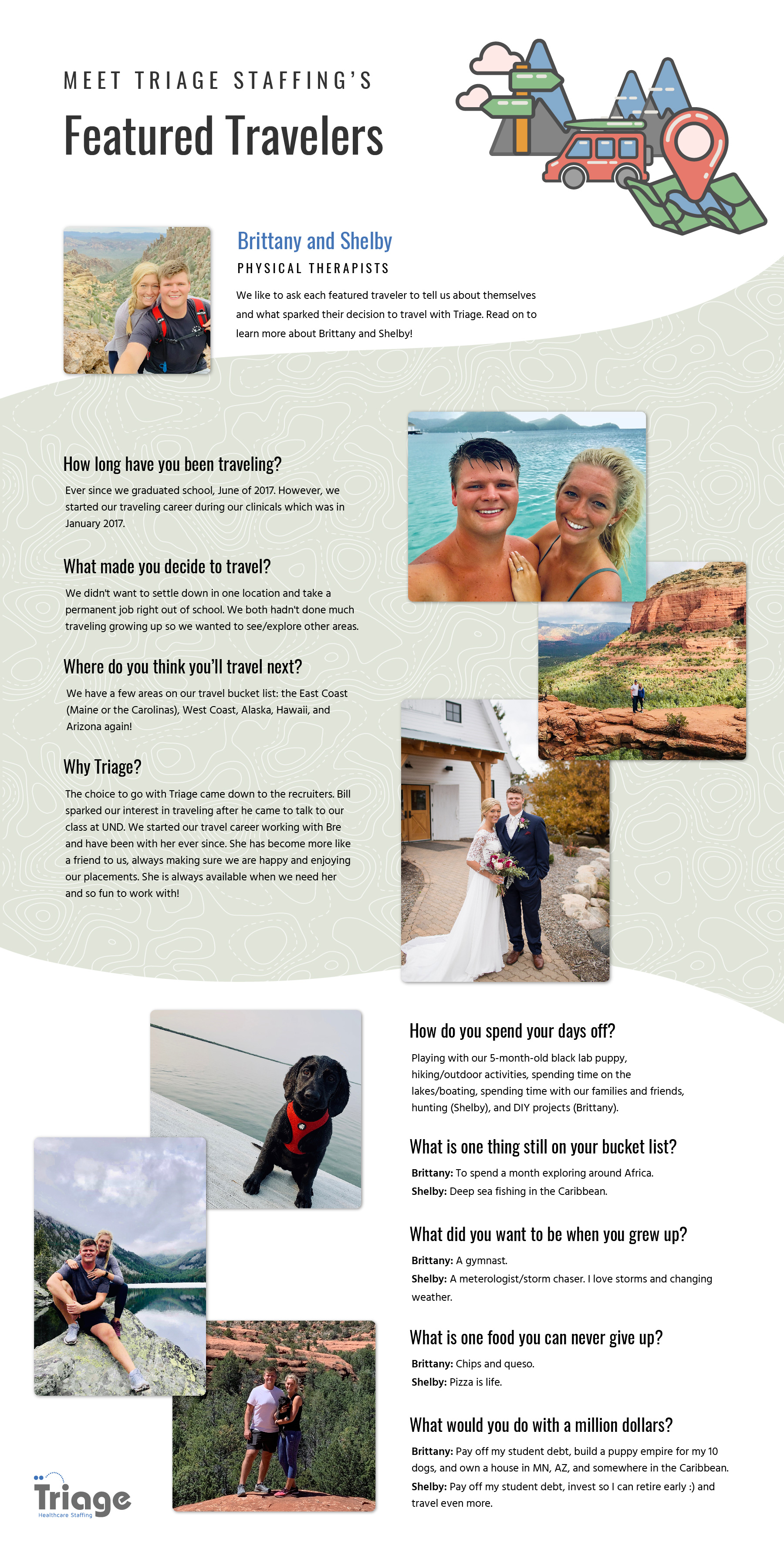 We like to ask each of our featured travelers what sparked their decision to travel with Triage. Read on to learn more about Shelby and Brittany and their choice to travel immediately following graduation:
Both Physical Therapists, this month's Featured Travelers are a young couple with a passion for exploration! Learn more about their decision to travel with Triage: http://bit.ly/32JCqgA
Tweet This!
Brittany and Shelby
Physical Therapists
How long have you been traveling?
Ever since we graduated school, June of 2017. However, we started our traveling career during our clinicals which was in January 2017.
What made you decide to travel?
We didn't want to settle down in one location and take a permanent job right out of school. We both hadn't done much traveling growing up so we wanted to see/explore other areas.
Where do you think you'll travel next?
We have a few areas on our travel bucket list: the East Coast (Maine or the Carolinas), West Coast, Alaska, Hawaii and Arizona again!
Why Triage?
The choice to go with Triage came down to the recruiters. Bill sparked our interest in traveling after he came to talk to our class at UND. We started our travel career working with Bre and have been with her ever since. She has become more like a friend to us, always making sure we are happy and enjoying our placements. She is always available when we need her and so fun to work with!
How do you spend your days off?
Playing with our 5-month-old black lab puppy, hiking/outdoor activities, spending time on the lakes/boating, spending time with our families and friends, hunting (Shelby) and DIY projects (Brittany).
What is one thing still on your bucket list?
Brittany: To spend a month exploring around Africa.
Shelby: Deep sea fishing in the Caribbean.
What did you want to be when you grew up?
Brittany: A gymnast.
Shelby: A meteorologist/storm chaser. I love storms and changing weather.
What is one food you can never give up?
Brittany: Chips and queso.
Shelby: Pizza is life.
What would you do with a million dollars?
Brittany: Pay off my student debt, build a puppy empire for my 10 dogs and own a house in MN, AZ and somewhere in the Caribbean.
Shelby: Pay off my student debt, invest so I can retire early 🙂 and travel even more.
We love highlighting our travelers each month because it gives everyone an opportunity to learn how amazing our team really is! Ready to join the Triage Staffing family? Search allied and travel nurse jobs today.
Know somebody who would be a good fit with Team Triage? Refer them today and you'll be rewarded!