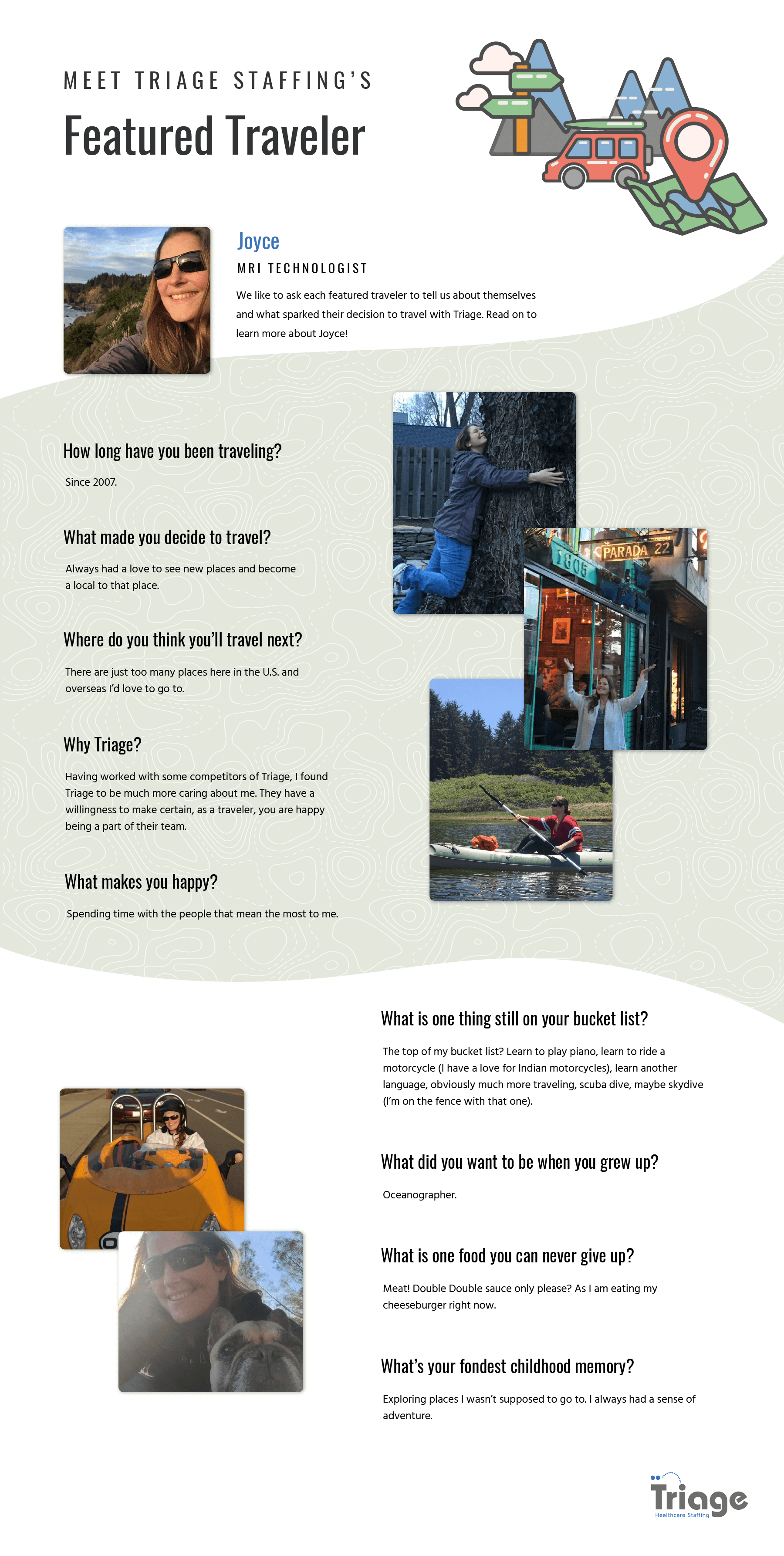 We like to ask each featured traveler to tell us what makes them so special and what sparked their decision to travel with Triage. Read on to learn more about Joyce:
Have you met @TriageStaff's Featured Traveler? Learn more about MRI Technologist, Joyce: https://bit.ly/2OUee2T
Tweet This!
Joyce
MRI Technologist
How long have you been traveling?
Since 2007.
What made you decide to travel?
Always had a love to see new place and become a local to that place.
Where do you think you'll travel next?
There are just too many places here in the U.S. and overseas I'd love to go to.
Why Triage?
Having worked with some competitors of Triage, I found Triage to be much more caring about me. They have a willingness to make certain, as a traveler, you are happy being a part of their team.
What makes you happy?
Spending time with the people that mean the most to me.
What is one thing still on your bucket list?
The top of my bucket list? Learn to play piano, learn to ride a motorcycle (I have a love for Indian motorcycles), learn another language, obviously much more traveling, scuba dive, maybe skydive (I'm on the fence with that one).
What did you want to be when you grew up?
Oceanographer.
What is one food you can never give up?
Meat! Double Double sauce only please? As I am eating my cheeseburger right now.
What's your fondest childhood memory?
Exploring places I wasn't supposed to go to. I always had a sense of adventure.
We love highlighting our travelers each month because it gives everyone an opportunity to learn how amazing our team really is! Ready to join the Triage Staffing family? Search allied and travel nurse jobs today.
Know somebody who would be a good fit with Team Triage? Refer them today and you'll be rewarded!