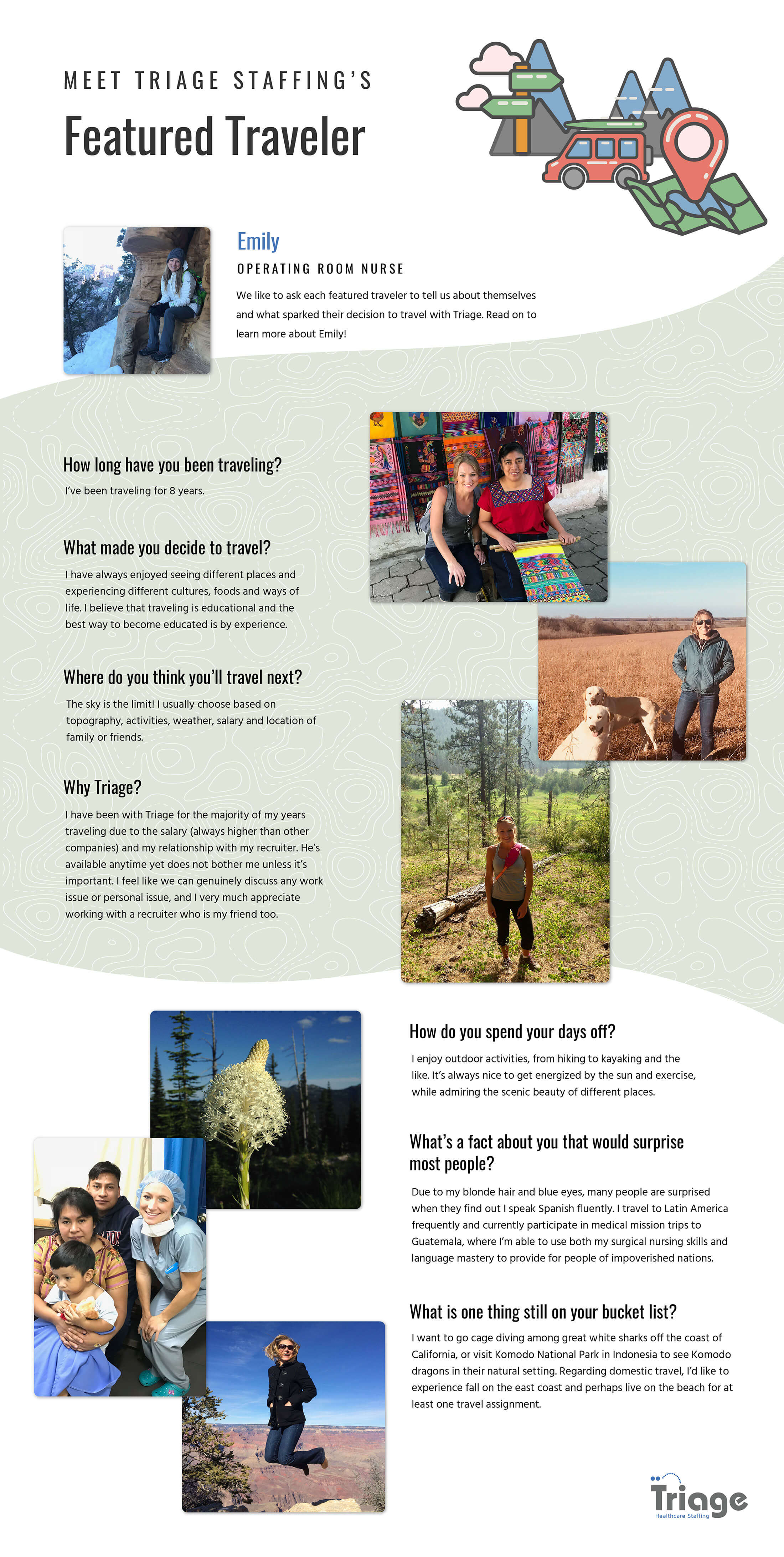 We like to ask each featured traveler to tell us what makes them so special and what sparked their decision to travel with Triage. Read on to learn more about Emily:
This month's Featured Traveler, Emily, loves experiencing new cultures and helping people around the globe! Learn more about her decision to travel with Triage: http://bit.ly/2Xfudxm
Tweet This!
Emily
Operating Room Nurse
How long have you been traveling?
I've been traveling for 8 years.
What made you decide to travel?
I have always enjoyed seeing different places and experiencing different cultures, foods and ways of life. I believe that traveling is educational and the best way to become educated is by experience.
Where do you think you'll travel next?
The sky is the limit! I usually choose based on topography, activities, weather, salary and location of family or friends.
Why Triage?
I have been with Triage for the majority of my years traveling, due to the salary (always higher than other companies) and my relationship with my recruiter. He's available anytime, yet does not bother me unless it's important. I feel like we can genuinely discuss any work issue or personal issue, and I very much appreciate working with a recruiter who is my friend too.
How do you spend your days off?
I enjoy outdoor activities, from hiking to kayaking and the like. It's always nice to get energized by the sun and exercise, while admiring the scenic beauty of different places.
What's a fact about you that would surprise most people?
Due to my blonde hair and blue eyes, many people are surprised when they find out I speak Spanish fluently. I travel to Latin America frequently and currently participate in medical mission trips to Guatemala, where I'm able to use both my surgical nursing skills and language mastery to provide for people of impoverished nations.
What is one thing still on your bucket list?
I want to go cage diving among great white sharks off the coast of California, or visit Komodo National Park in Indonesia to see Komodo dragons in their natural setting. Regarding domestic travel, I'd like to experience fall on the east coast and perhaps live on the beach for at least one travel assignment.
We love highlighting our travelers each month because it gives everyone an opportunity to learn how amazing our team really is! Ready to join the Triage Staffing family? Search allied and travel nurse jobs today.
Know somebody who would be a good fit with Team Triage? Refer them today and you'll be rewarded!